(NOTE: We're keeping this post up top for a while, new servings of the Blend are below…)

---
The election of Barack Obama to serve our country as President of the United States was due in great measure to his promise to effect change in Washington. He told voters that he would stop the political logjams and use his bully pulpit to work with and demand that Congress act on issues that lay dormant or actively opposed during Republican rule. And that list was long – health care, the environment, the military actions abroad, civil rights and liberties…
And there were specific promises made to the LGBT community about the importance of acting on many of the issues we discuss here on the Blend — ENDA, DADT repeal, DOMA, UAFA, etc.
Don't Ask Don't Tell needs to be repealed in 2010
Since his inauguration, a concerted White House effort to back-burner pressing Congress to repeal Don't Ask, Don't Tell. Actually, the President talked a great game about doing it in speeches, including the State of the Union, and at dinners to our community leaders, suggesting an urgency to allow gays and lesbians to no longer remain closeted and serve in the military. This was underscored by the fact that the ranks of qualified, experienced service members are being stretched thinner with each day due to our commitments at home and abroad.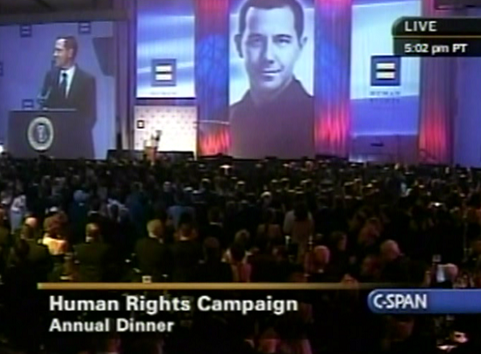 The role of HRC in pressing the WH
The largest LBGT organization in the country, the Human Rights Campaign — with nearly a million members, according to president and executive director Joe Solmonese — is seen by the White House, Congress, and the mainstream media as the community's official representative inside the Beltway. HRC had the ear of the White House — attending strategy meetings on LGBT policy, and appeared numerous times at public social and political events, such as the signing of the hate crimes bill.
While many in the LGBT community have criticized HRC on many occasions (including yours truly), the motivation, at least on my part, I cannot speak for others, is that its position and responsibility is so critical now that we have an administration that has made promises –and dodged action.
Why now?
If DADT is not repealed in 2010, you're not going to see it happen in this administration's first term. Between retirements, deaths, and poor leadership, Democratic control of Congress is in jeopardy this year. When Scott Brown won the "Ted Kennedy" seat in Massachusetts, you saw a distinct panic and desire to move to the middle, a signal that hot button issues (read: civil rights for LGBTs) were going to be submerged, deemed too controversial. The administration cannot guarantee there will be a second term either.
Repealing DADT is not controversial with the public — polls have been strongly in favor of repeal for some time now with Colin Powell and Dick Cheney of all people calling for repeal. There is no reason for timidity in calling for accountability now that Secretary of Defense Gates and the Chairman of the Joint Chiefs Mullen have called for this policy to end.
Tax-paying LGBTs have pulled out their wallets for the Human Rights Campaign for years, waiting for the day their investment would result in action once a gay-friendly administration and Congress were finally in place. Now is the time time to act. We need the full force of HRC flexing its political muscle to call for the President to publicly press for repeal of Don't Ask Don't Tell.
If we have "White House officials" floating that it could take years before repeal, then we know there is not leadership going on at 1600 Pennsylvania Avenue. But we do know that repeal of DADT could be included in the Defense Budget he sends to Congress soon if pressed to do so.
What can you do?
This is a call for you to tell HRC that it's time to use its role and reach in an assertive, public manner as other organizations — such as the AFL-CIO — have had to do to move its issues onto the priority list of this White House.
HRC Front Desk: (202) 628-4160

TTY: (202) 216-1572

Toll-Free: (800) 777-4723
HRC Web site comment page.

General membership email at HRC: membership@hrc.org
Blog about it, share this action item widely on Facebook or Twitter.
And by blog swarming this issue including linking to blogs that are also participating, you show that the LGBT and ally community mean business. The polls, support from the military and the momentum is in our favor to act now. Let HRC, the President and Congress — and the media — know with this action that we know the political clock is ticking.
Here is the list of sponsors of the DADT blog swarm, linking to their posts on this topic:
Joe Sudbay and John Aravosis, AMERICAblog

Pam Spaulding, Pam's House Blend

Michelangelo Signorile, Sirius OutQ & the Gist

Markos Moulitsas, Daily Kos

Andy Towle, Towleroad

Joe Jervis, Joe.My.God

Bil Browning, The Bilerico Project

Taylor Marsh, TaylorMarsh.com

Dan Savage, Slog
***
UPDATE: An interesting and not unexpected response from an HRC affiliate (not claiming to speak for the national office), that Americablog posted about.

It's exactly as we said, HRC seems genetically incapable of ever challenging President Obama on anything. They simply parrot the Obama line – the President is supposedly powerless, you know, to influence legislation – and think that what's best for Barack Obama is best for gay America. Well, sometimes it's not. Sometimes you actually have to challenge the President. Sometime you have to recognize that the President of the United States of America actually has some political capital at his disposal – especially on an issue involving the military when he's the commander in chief.

HRC today, via one of its local affiliates, responded to today's DADT blog swarm, launched by top blogs in the gay and non-gay blogosphere, by yet again defending the President and deflecting the blame to Congress for the inaction on 'Don't Ask Don't Tell.'
Here's what Equality Beach (the political blog for HRC Orange County/Long Beach/Palm Spring) said:

In a coordinated campaign launched by AMERICAblog, Pam's House Blend, Towleroad, DailyKos, Joe.My.God, Bilerico, Dan Savage, and others, several LGBT blogs are calling on their readers to call HRC and demand that HRC call on the President to act on DADT. I guess the reasoning is they do not feel HRC is doing enough to push the issues, particularly with DADT. HRC is not Congress or the President, we cannot write legislation, sign bills, or anything else. We lobby with people power and money.

While I disagree with this specific approach, calling your member of Congress and Senators and the White House would be a better use of your time.
No one said that you shouldn't contact your representatives. The point of the blogswarm is to activate the organization paid to lobby those very elected officials in person, as well as the White House. And look at, to date, the lack of leadership on DADT repeal we've seen from the President, Harry Reid and Nancy Pelosi. Again, John:

Was HRC in a coma last year? Did they not witness the melt down on health care reform that occurred because the White House refused to lead on a key campaign promise, but instead sat back and "waited for congress" to act?

Yes, by all means, do what HRC says and call Congress. Congress does need to pass the DADT repeal, and they do need to feel pressure. But I worked in the Senate, for five years, and I can tell you as a fact that Congress won't touch the repeal until the President tells them what he wants. This is what Joe Sudbay and I are being told when we call offices on Capitol Hill. No one knows what the President wants. Does he want DADT repealed this year, next year, during the next administration (if there is one)? No one knows, because the President likes to issue vague statements of support for repeal, then disappear into the background when people ask him "when?"

We've all learned all too well, and painfully, that when the President doesn't lead, Congress doesn't follow. HRC should stop treating Barack Obama as their boyfriend, and start treating him as a politician who isn't keeping his promises.