Kate and I were sitting through a L&O:SVU marathon while I was down for the count with the flu and we were aghast of the desperate moxie of fast food chain Taco Hell Bell for hawking something it's calling the Taco Bell Drive-Thru Diet ("7 incredible Taco Bell tastes under 9 grams of fat.").
Shilling for the questionable diet plan is one Christine Dougherty, who claims she lost 54 pounds on the gut-churning regimen. We were laughing out loud as the commercial showed her before and after photos, as brief, hilarious subtitle disclaimers flashed on the screen.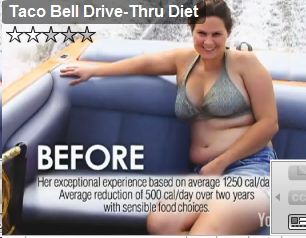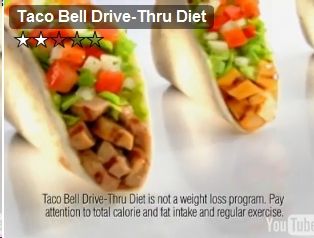 You know, how the Drive-Thru Diet selections are "not a low-calorie food," and that she substituted her "regular fast food choices" with TB's "Alfresco Menu." Oh, and by the way, she reduced her calorie intake to 1250/day.
The executive brainiacs at Taco Bell who thought this Drive-Thru Diet idea would be believable instead of laughable need to lose their jobs. I know they think the average American consumer is a dingbat, but come on — processed, fatty meat, cheese…9 grams of fat in one of its "diet" selections is not going to slim anyone down — unless they don't eat much else the rest of the day.
Clearly they are trying to emulate and target Subway's successful "6 grams of fat or less" sandwiches campaign. Take a look at Subway's nutritional menu — its sandwiches and salads do have lean and healthy choices, and there are plenty of healthy topping choices available. The chain also answers many questions about the origin and composition of its offerings. Its disclaimer?
Subs with 6 grams of fat or less include 9-Grain Wheat bread, lettuce, tomatoes, onions, and green peppers. All other sandwich values include cheese unless otherwise noted. Salads contain meat/poultry, standard vegetables and do not include salad-dressing or croutons.

Addition of other condiments and fixings will alter nutrition values.
Surfing over to Taco Bell's nutritional guide, it's pretty clear its marketing peeps know they have a challenge to make its menu appear healthy and filling. One certainly couldn't eat regular meals at TB and get anywhere close to a balanced diet. That's why there's this disclaimer at its site:
Drive-Thru-Diet® is not a weight-loss program. For a healthier lifestyle, pay attention to total calorie and fat intake and regular exercise. Taco Bell's Fresco Menu can help with calorie reductions of 20 to 100 per item compared to corresponding products on our regular menu. Not a low calorie food. For complete nutritional information please visit TacoBell.com.
But aside from the numbers game, it's the naked appeal to those who added a couple of pounds over the holidays and are also jumping into the gym to work them off. When you're heading home after a workout, is the first thing on your mind "I want drive to a Taco Bell?" — and get that little bean burrito?