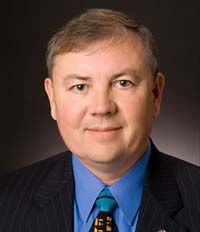 With the string of defeats at the ballot box regarding marriage equality continue, it emboldens the bigots in the remaining states without them. Witness New Mexico's Sen. William Sharer, R-Farmington, the latest in the state to attempt to write discrimination into the state's constitution, SJR01. The New Mexico Independent:
Wednesday was the first day to pre-file legislation for the legislative session that begins January 19, and among the 15 bills posted on the New Mexico Legislature's Web site late Wednesday is one that proposes a constitutional amendment defining marriage as between one man and one woman.

During the regular 2009 session, a bill that would have allowed domestic partnerships was defeated after a lengthy debate, but Gov. Bill Richardson has said that during the next session he will try again to get such a bill passed.
Sharer has tried to do this before with Bill 162, that would have added to the current definition of civil marriage as a contract "between a man and a woman." With his hot-footing it to pre-file, apparently all of the needs of Farmington have been met by Sen. Sharer, so he can now set his priorities ahem, straight.