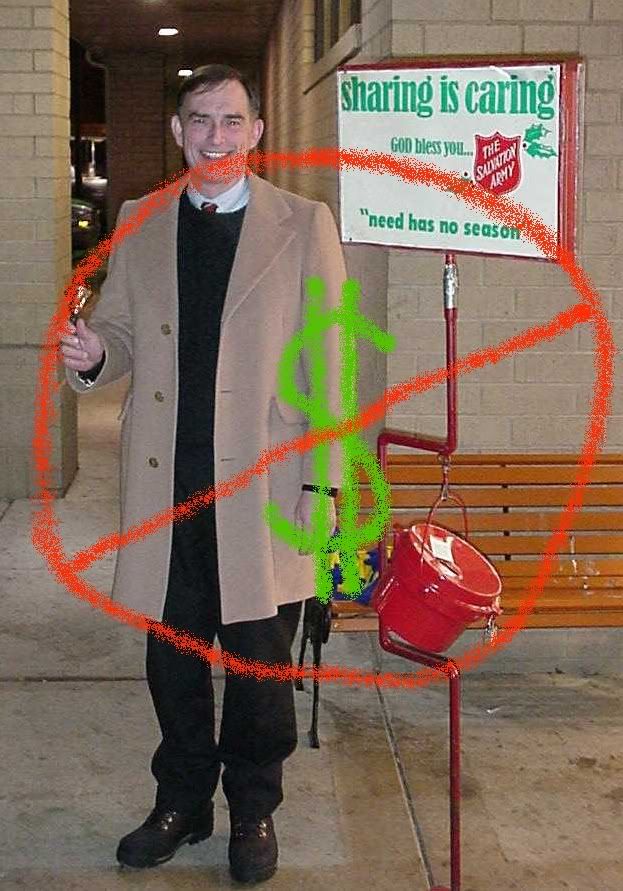 'Tis the season to remember who is naughty and who is nice. And if you're not sure, Salvation Army is ringing it's bells to remind you:

Scripture opposes homosexual practices by direct comment and also by clearly implied disapproval. The Bible treats such practices as self-evidently abnormal. …

[S]ame-sex relationships which are genitally expressed are unacceptable according to the teaching of Scripture. Attempts to establish or promote such relationships as viable alternatives to heterosexually-based family life do not conform to God's will for society. …

[S]uch practices, if unrenounced, render a person ineligible for Salvation Army soldiership, in the same way that unrenounced heterosexual misconduct is a bar to soldiership.
Homos in "genitally expressed" relationships aren't good enough to volunteer to stand in the cold and guilt shoppers into giving, but their money is just as sought after as that from Jesus-approved heterosexuals. Pink pennies don't pollute, only the pink people pitching them. Isn't that interesting? So I'm on my own crusade. I'm going to help Salvation Army stay pure by keeping my tata-tainted tithe where it belongs: with the LGB and T.
Bonus points to whoever can identify the bell ringer! (Answer here.)