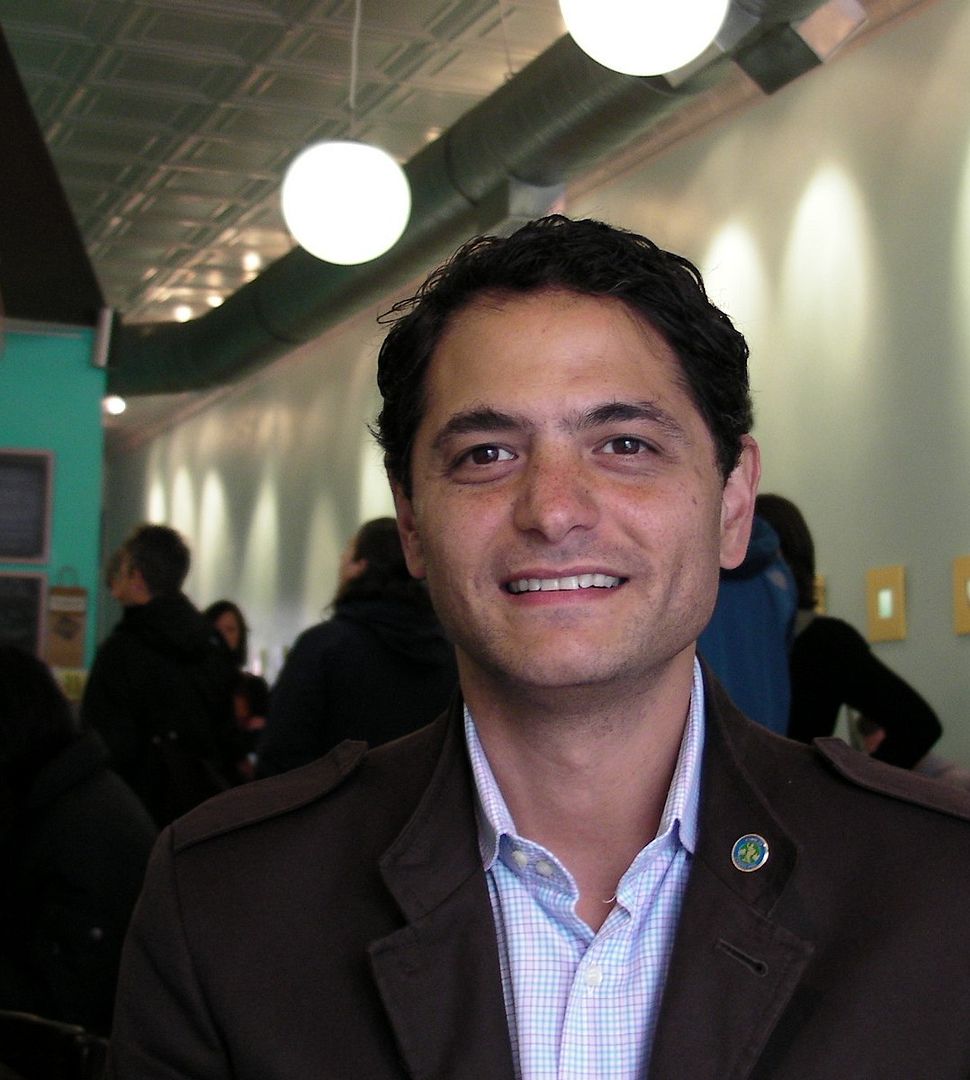 I was contacted by The Advocate several days ago to see if I was interested in doing a piece for the mag on Chapel Hill's incoming mayor, Mark Kleinschmidt, who is openly gay and won only by a hair (106 votes), in what is one of the most liberal cities in NC.
Well, it certainly wasn't hard to say yes to that scoop. I emailed Mark and we met not far from my office in downtown Durham at a popular restaurant, Toast. I set up my trusty cam, and we ordered lunch for a leisurely conversation about many things — his election, his family involvement with the race, and the unexpected homophobic (and ill-thought-out tactic) by an opponent. He also had some interesting and thoughtful things to say about the loss of marriage equality in Maine as he and other out candidates around the country celebrated victory on election night.
The result of our lunch is "Triumph in the Tar Heel State." A snippet:
Since you have been personally and professionally out of the closet for a long time, did you expect your orientation to be an issue in this race, since C.H. has a progressive rep?

I didn't. And then I had some opponents that were unexpected, including a couple of Republicans, and it did give me pause. I wondered when they joined the race whether or not it was going to be an issue. And it did come up toward the end in a way that didn't help my opponents at all.

During the early voting [two weeks before the election], one of the candidates [Kevin Wolff] announced that he was withdrawing from the race; nonetheless he maintained a presence at the polling sites and did some amount of campaigning. And one of the things he did was that he had signs at our early-voting places with literature tacked on for voters to educate themselves. And he had a typical campaign piece where he compared himself to his opponents … and there was a checklist – "Who's going to lower your taxes … I would, he [Kleinschmidt] wouldn't," typical things like that. But then there were these other points … "Family," as in does he have a family – "I have a family," but Kleinschmidt doesn't have a family. The last one was "Gay Rights Activist" and he proudly has "N" for no, he's not one, and neither were any of the other candidates, but then "Yes. Mark Is a Gay Rights Activist." I was shocked.

The greatest impact it had was it showed voters how out of touch he was with the community; he had just moved to town four years ago, and he apparently has not been around long enough to know the town he has moved to.

About Mark Kleinschmidt:

Position: Chapel Hill town council member since December 2001. He was the fifth openly gay North Carolinian to be elected in state history.

Profession: Executive director of the Fair Trial Initiative; represented several North Carolina capital defendants in post-conviction litigation; recruited and mentored of young attorneys and their development toward becoming capital trial attorneys. Previously was social studies teacher at West Mecklenburg High School in Charlotte, where he was named the 1997 teacher of the year.

Boards and organizations: North Carolina American Civil Liberties Union, the International Network of Lesbian and Gay Officials, the North Carolina Democratic Party, and Equality NC.

Family: His father, Jim Kleinschmidt, is a retired U.S. Air Force chief master sergeant and his mother, Marge Kleinschmidt, is a registered nurse. He has a twin sister, Michelle Barbee, who served as campaign treasurer.
Next week I will have the entire interview here on PHB, including additional video — what's up at The Advocate is only about two-thirds of my conversation with Mark.
One more question, about how outsiders view NC is below the fold.

One of things I find very interesting, as a North Carolina blogger, and I'm sure you receive this as a North Carolina politician, is that many people are confused about the political identity of our state. What do you say to people when they talk about how N.C. is racist, bigoted, the state of Jesse Helms …

When people mention our racist past and present and Jesse Helms, I ask them where is it that they live that's so different? Where is this Eden that you live in that is absent of all racism or any blowhards that are stoking the fires of racial tension? We just had the misfortune of having a very loud, high-profile senator who just took it upon himself to be the person who threw coal onto the fire every day. To think we're the only place in the country that suffers from vestiges of Jim Crow and slavery is really shortsighted. All that does is give those people something to pat themselves on the back about.

I talk about how North Carolina is different than what a lot of people believe is true about the South. I don't defend Georgia, Mississippi, and Alabama and South Carolina, but we aren't any of those places. We never have been. As the South moved into the '50s, '60s, and civil rights issues began to dominate the American culture, North Carolina was one of the leading states in helping move it forward. We had leaders that had already come of age with progressive values helping to move the state, like Frank Porter Graham, Terry Sanford. And none of them did everything that we would have liked them to have done, but we made enormous progress in ways the states outside of the South only wish they could have made. While they further segregated themselves, our state has taken up the difficult challenge of true integration. And I think we are constantly self-acknowledging that we have not always been successful; it's a continuous process – and this is a state that gives birth to that kind of politics, and we should be proud of it. People need to reevaluate what they think of North Carolina. It's not a surprise to me that North Carolina had the first openly gay elected official [in the South - Joe Herzenberg, elected to the Chapel Hill town council in 1987]. Other states don't share that with Chapel Hill. There are very few places like this.

Although I have received negative feedback from other parts of the state, it's been rare. And over time, it's kind of strange, I've actually become a part of the institution of politics in North Carolina. I have a role … it's a role I was invited into at least by some parts of the institution, particularly the Democratic Party. So I try to give feedback to these people to have them think about where it is they are from that is so different and that how we are not what they think we are.