Reverend Joan Montagnes and about 50 members and friends of the East Shore Unitarian Church took it to the streets of Bellevue, Washington Sunday. Rev. Joan said she put out the call for lay leadership, Chris Conkling answered, and the event happened in short order.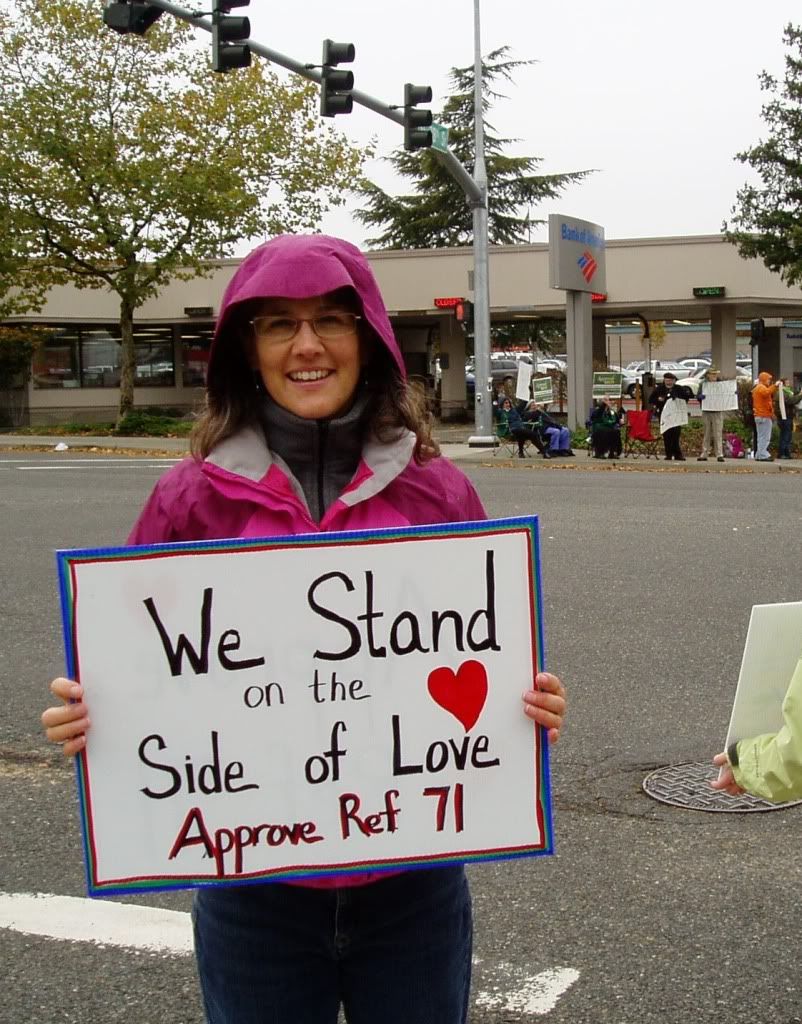 Their message: Vote APPROVED on Referendum 71!

Their philosophy: The visibility was a natural expression of the U-U's foundational Seven Principles, especially We covenant to affirm and promote the inherent worth and dignity of every person [and] respect for the interdependent web of all existence of which we are a part. More than one participant stated that for them, service is a form of prayer or worship. Joan shared the following shared convictions with me

Today both love and fear are rising up in our nation.

* We stand on the side of love.

* We want to harness the power of love to stop oppression, exclusion and violence.

* We believe that homophobia, not homosexuality is a sin.
Powerful words.
Yours truly learned about the event through the equality grapevine: the local district democrats put out the word to neighboring district dems, one of whom is a PFLAGger who sent notice out to her network, and voila!
It is said that our opponents have an advantage because they have a pre-fab church network to utilize. That's true, but so do we. Last I checked there were over 160 faith leaders, congregations and organizations representing three faiths (Judaism, Christianity and Unitarian) and four entire denominations (United Church of Christ, Unitarian Universalist, Methodist, Lutheran) who have endorsed the Approve 71 campaign.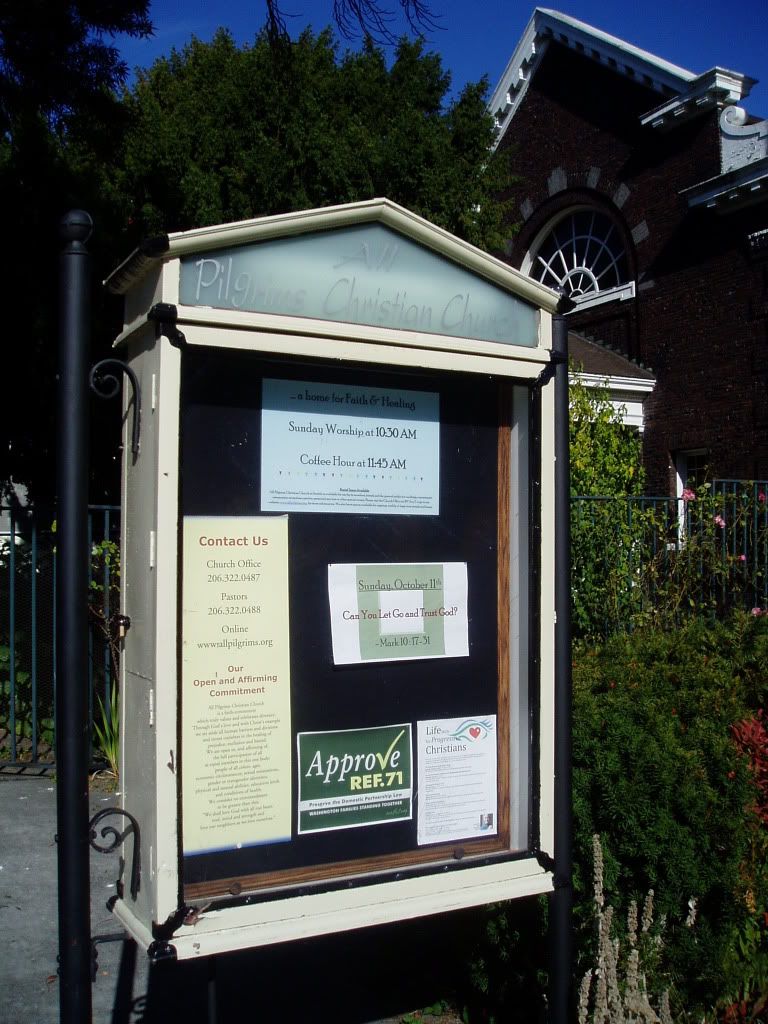 These folks come from Anacortes, Arlington, Bainbridge Island, Bellevue, Bellingham, Bothell, DuPont, Edmonds, Ellensburg, Everett, Federal Way, Freeland, Friday Harbor, Kenmore, Kirkland, Lacey, Lake Forest Park, Langley, Maple Valley, Mercer Island, Monroe, Newport, Olympia, Pullman, Puyallup, Renton, Seattle, Shoreline, Spokane, Tacoma, Tieton, Vancouver, Woodinville, Yakima
They represent the following denominations and faiths: American Baptist, Apostolic Catholic Church in America, Christian Church (Disciples of Christ), Episcopal, Evangelical Lutheran Church in America, Mennonite, Methodist, Metropolitan Community Churches, Presbyterian Church (USA), Quaker, United Church of Christ, United Methodist, Living Waters Fellowship, Center for Spiritual Living, Unity Spiritual Life Center, Buddhist, Jewish, Unitarian, Unitarian-Universalist.
Janet Tu of The Seattle Times has written the terrific article Religion no litmus test on Ref. 71 which summarizes the scene.

In the past several weeks, Jessica Gavre, director of the social-justice program at First United Methodist Church in Tacoma, has knocked on doors, hosted a fundraiser at her church and handed out inserts for church bulletins – all on behalf of Referendum 71.

She and others at her church have urged fellow faith leaders to preach sermons and write letters to the editor about the importance of upholding the recent expansion of the state's domestic-partnership law for same-sex and senior couples.

"Our faith community believes that all people deserve equal rights and protection under the law," Gavre said.
Pro-equality people of faith in Washington are speaking up and speaking out. The power of their service is evident not just by the positive responses of passing drivers, but on the faces of participating LGBT people who rarely have their humanity affirmed so publicly.
Today anti-equality activist, Bothell preacher and flip-flopper Joe Fuiten dispatched this message from a Family Research Council executive in Tennessee

The time has come for God's people in Washington State to stand for marriage and vote to "Reject" on Referendum 71!
While Fuiten seems to prefer that out-of-staters like Oregonian Gary Randall or the FRC-Tennessee guy do the talking, I think Washington voters respond best to the voices and opinions of real Washingtonians. Below the fold is a sampling of what God's people in Washington State are saying. Again this Sunday people of faith from West Seattle rallied in support for Approve 71. Check out Westside Unitarian Universalist Congregation's main webpage.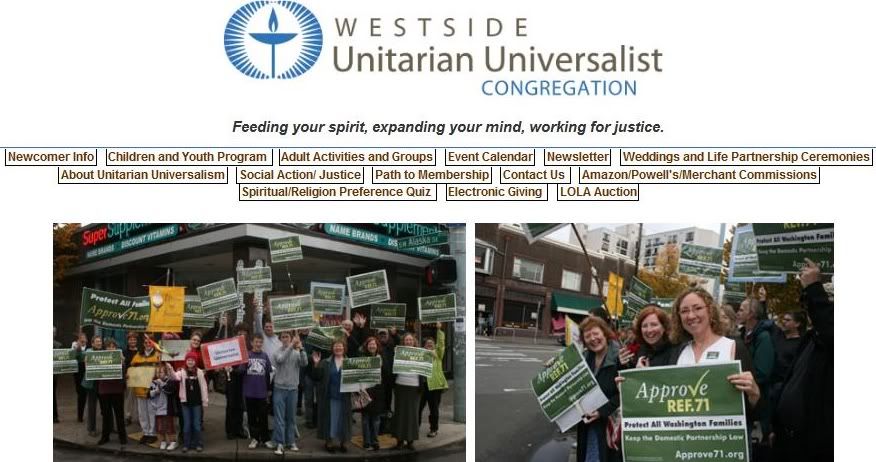 West Seattle's religious leaders made the following statement in West Seattle Herald


As religious leaders of West Seattle, we have come together to speak with one voice for all families. Religious leaders before us have spoken to end slavery, and to ensure equal rights to all persons regardless of gender, nationality, religion, and race.

Today, we feel compelled to speak out in support of Washington's domestic partnership law, which provides essential protections to families throughout the state.

As people of faith, we oppose any effort to take away the rights and protections provided to families through our state's domestic partnership law. As providers of pastoral care to families, we know that gay and lesbian couples form loving, lasting, committed relationships, raise children and grow old together.

These couples and their children have the same needs and deserve the same rights as their heterosexual peers.

We also know that the domestic partnership law provides important protections to non-gay couples where one partner is at least 62 years of age.

As faith leaders, we care about all families. We have seen first-hand the burdens on a family facing death or illness without important legal and financial protections, from access to healthcare, to the right to visit a partner in the hospital, to the right to make medical decisions for one's own children.

We have felt the worry that exists when a parent who is a firefighter or police officer goes off to work each morning knowing that if something happens to her there won't be support for her family.

We urge all to vote YES on Ref. 71, as a principled expression of our deeply held religious convictions. We urge our congregants to stand in support of all of Washington's families.

In faith,

Rev. Kendall Baker, Retired, United Church of Christ

Rev. Peg Boyle Morgan, Westside Unitarian Universalist Congregation

Rev. Dr. Joanne Carlson Brown, Tibbetts Methodist Church

Rev. Diane Darling, Alki Congregational United Church of Christ

Rev. Ann J. Eidson, Admiral Congregational Church

Rev. David Kratz, Fauntleroy United Church of Christ Church

Rabbi Anson Laytner, Congregation Kol HaNeshamah

Rev. Mark Newton, Westside Unitarian Universalist Congregation

Rev. Paul Winterstein, Calvary Lutheran Church
As an Evangeligal Christian Shawn Murinko felt moved to come out as an LGBT ally of faith.

Coming out of the Christian closet in support of Ref. 71

THE OLYMPIAN | • Published September 11, 2009

I have a confession to make. I've been in the closet. And I'm not talking about the kind of closet that would undoubtedly leave me wifeless.

Rather, it is that cluttered space in life that pops up from time to time where the intrinsic need to speak up for what is right is blurred by a selfish need to avoid being ostracized by those whom we love and respect. Referendum 71 and this column give me an opportunity to sort this out. In advance, please forgive my catharsis. It has been a long time coming.

I am unashamed to say that I am an Evangelical Christian. In fact, I have often said that three people were off limits from criticizing as a child, they were: Jesus, my mother and Ronald Reagan. (As I've grown older, frankly, I've narrowed my list to include the first two.)…

Growing up in Spokane Valley didn't really afford me the opportunity to appreciate the rich tapestry that a diverse environment offers. It was, instead, a vast sea of white and minivans shuffling through a Mayberry-like existence. Through it all, everything was conveniently, albeit deceptively, homogeneous. There were no Hispanics, or people in wheelchairs, and there were absolutely no persons who were anything but heterosexual.

As time marched on, the narrow tunnel that I was ushered through began to give way to expose what now seems so laughably obvious: Not everyone is like me.

The age-old formula that Hollywood uses in the movies reinforces this notion. There is both good and evil. After all, where would the story be if Batman had no Joker? In the context of the real world, however, this "us versus them" mentality ignores the fact that not all differences are inherently bad as they are portrayed on the screen.

Now, I admit that differences do exist that offend humanity. Our history books are teeming with examples. However, differences alone should never be a disguise for inequality, and Referendum 71 gives us an opportunity to debunk this cultural myth.

In fact, as I write in its defense, I am reminded that it was not that long ago when biracial marriage was shunned and deemed immoral. In contrast, but for the pockets of extremists, these relationships are embraced and not questioned in 2009.

The same, however, cannot be said for those who would be affected if Referendum 71 is rejected.

Opponents argue that this referendum is little more than a gateway to same sex marriage. Since I am unable to predict the future with absolute certainty, I can only speak for the choice that is before the voters today – a choice, by the way, that does not include marriage equality.

Instead, Referendum 71 is little more than a legal confirmation for others to pursue the very same freedoms that led many Christians across the Atlantic to escape religious persecution. Generations have passed since this struggle and as a consequence, we are removed from the very core of the ideals we once so readily embraced and fought for – that is, the right to pursue life, liberty and happiness.

In the historical context, this referendum affords everyone the opportunity to affirm our collective commonalities regardless of religious dogma. And as self-serving as it might be, it gives me the opportunity to come out of the Christian closet in support of Referendum 71.
Rev. Elizabeth "Kit" Ketcham, Minister for the Unitarian Universalist Congregation of Whidbey Island speaks out in this letter in the South Whidbey Record

Our individual votes mean a great deal; together, they shape the trajectory of this country, this state, this county. Though one vote in itself may not seem important, together we make the decisions that empower and distinguish us as a democratic nation. Therefore, I urge us all to VOTE.

When we cast our ballots, we take each others' lives in our hands, in a sense. Successful and unsuccessful candidates for office find their lives and responsibilities changed. Referenda and initiatives also change people's lives. If we vote one way, we may better our own lives, but trash someone else's. If we vote another, we may improve others' lives, but may have to adjust to changes in society. Therefore, I urge us all to VOTE TO IMPROVE OTHERS' LIVES.

As we consider the possible outcomes of this year's election issues, we need to realize that we have the power, through our votes, to hurt people, to diminish their standard of living, to declare them unequal under the law, to debase their relationships, to deny them compensation for their commitment to each other, to call them second-class citizens.

A democratic society is committed to equal rights for all citizens. Therefore, I urge us all to VOTE TO APPROVE REFERENDUM 71 and ensure the safety and legitimacy of domestic partnerships, both same sex and senior couples.
Judi Edwards writes from Bremerton courtest of Kitsap Sun

A Christian's Role in Supporting Referendum 71

BREMERTON – I'm a married, heterosexual, Christian minister with eight grandchildren. I try to be a follower of Jesus, who said that we should care about the least, who challenged those in power and with special privileges, and who directed his ministry of love and acceptance to the less-privileged. Accordingly, I support Referendum 71.

I'm speaking up – and focusing on religious issues – because some have unfortunately treated the legal rights and privileges of domestic partnership as something a particular religious viewpoint should control.

Ref. 71 affirms legal protections, rights and responsibilities already passed by our Legislature. It thus provides "family support" to those families which include same-sex couples and heterosexual couples with one partner over the age of 62, who are registered as domestic partners. This also means it provides more protection and security to children in such families, and I believe that's important to the people of Washington.

I would not argue with people's beliefs. Please do follow your own, well-thought out beliefs. But our government should not provide different benefits and protections based on any particular set of religious beliefs. There are many strong Christians or other religious persons among same-sex couples.

If you do not believe in same-sex relationships, don't engage in them. If you want your marriage to be strong, then work at your relationship to make it so. Don't limit others from having legal protections of their own committed relationships.

If your religious institution does not want to recognize certain family configurations, it need not. Many religious groups currently have rules limiting who may be married in their facilities or by their religious leaders, or even who is recognized as being married – including those who have been married in civil ceremonies or by other religious leaders. The freedom to make those rules wouldn't change. How do these protections threaten religious organizations?

And we're not even talking about marriage. The legislation to be affirmed by Ref. 71 has a set of words it inserts in each of the applicable chapters of the state law so that in references to certain matters which apply to married couples, those would also apply to people in state-registered domestic partnerships. Opponents sometimes refer to these repetitions, needed as legalities, as if the legislation is referring to domestic partnerships as marriages. It is not. It is repeating legal phrases to assure that protections provided to marriages are automatically provided to domestic partnerships.

Whether someone does or doesn't support same-sex committed relationships – they're there. The question is how we respond to that, to make life more difficult for the couples (and the rest of their family), or allow them the same protections so many of us already have. Supporting the domestic partnership law is not only the fair thing to do, but assuring legal safeguards in situations applicable to committed couples adds to the stability of our society.

I encourage everyone who cares about justice and about equal protections for all families to vote for Ref. 71. Affirm this important legislation passed to support our families.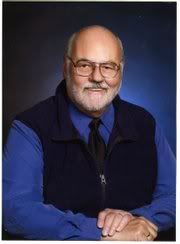 Rev. Bob Jackson wrote this column in The Wenatchee World


Approve

I vote to approve Referendum 71 because I believe, in the words of the Pledge of Allegiance, that we are a people of "liberty and justice for all." That patriotic stance is based upon my religious convictions as a follower of Jesus, who said that "all the law and the prophets" can be summarized by "loving God with your whole being" and "loving your neighbor as you love yourself."

Jesus also quoted from the scriptures of the Old Testament, with which he grew up, that powerful Q-and-A – "What does God require of you?" That you do justice, love mercy, and walk humbly with your God.

How wonderful this world would be if we all lived that way, without the necessity of civil rights laws and legal requirements to treat one another with liberty and justice for all. But without such laws, unfortunately, the powers that be allow for the domination of some people over other people and the denial of equality and justice.

We have seen in some of the sadder dimensions of our nation's story that the powers that be allowed white Americans to dominate people of color by treating them as less than equal, even less than human, and the institution of slavery is that terrible stain on our history that we'd rather forget.

Similarly, the powers that be allowed males to treat females as less than equal, and for far too long women were denied such basic rights as voting, property rights, and many other contradictions of our claims to equality and liberty and justice for all. I am proud to live in a state where we "allowed" women to vote 10 years before they received that justice in the rest of the country.

In much the same way, our state is closer to the forefront among states taking steps toward liberty and justice for a third group of citizens who have, for far too long, suffered the burden of homophobia, resulting in their second-class citizenship. Racial bigotry, sexism, and homophobic-heterosexism – all three are examples of how the powers that be have allowed one party of the populace to dominate others, and, by treating them as less than equal, have denied them the liberty and justice that we say is for all.

When I began my 40 years in the ministry, more than half the states denied the right of a person of color to be married to a white person. It took action all the way to the Supreme Court to end such injustice.

I have three children by adoption because that's the only way I could have children, but some states still restrict adoption to heterosexual couples only. In biblical times, families often consisted of a patriarch with many wives (and a dozen concubines) – and yet many so-called Christians deny that the role and definition of family has quite naturally evolved.

The argument that if we recognize other variations of family from the one we grew up in, that somehow that will "threaten my marriage to my wife," is utter nonsense. When I married, the state gave my partner countless civil rights – visitation of me when hospitalized, the right to make decisions for me when I was incapacitated, rights to my pension and my Social Security benefits and many, many others. Our state has secured many such rights through the domestic partnership laws that move us a bit closer to making equality, liberty and justice for all a reality.

I say it loudly, we must not take away from others those rights that we cherish for ourselves.

Please join me in approving Referendum 71.

The Rev. Bob Jackson is a retired pastor. He was most recently pastor of United Church of Christ in Peshastin, retiring in 2005.
Rabbi Marti Leviel of Bellingham writes in

The Bellingham Herald

Saturday, Oct. 24, 2009

Rumors of religious intrusion untrue

I hear that there is a rumor being spread that if referendum 71 passes, my synagogue or church will be forced to perform same-sex ceremonies. That's not true – not even remotely possible.

First of all, the referendum isn't about marriage, it's about domestic partnership and there's no religious ceremony that goes with becoming domestic partners. It is a civil act, just like getting a business license. Thousands of couples have already registered without asking a church or synagogue to bless their partnership.

Furthermore, religious institutions decide what ceremonies they perform and for whom. There's nothing in the referendum that would tell my church or my synagogue what to do. Some of us already choose not to perform marriages for divorced people or interfaith couples or those we feel aren't ready for marriage. So even if same-sex marriage were someday to become legal in Washington, we would still decide what ceremonies we will perform. We would not lose this right.

Don't fall victim to scare tactics. Please mark your ballot "approve" on referendum 71.

Am I starting to make my point? People of faith support approval of Referendum 71 and other civil rights measures because they believe in the intrinsic value and equality of every person. As Josh Frides said in Janet Tu's article

"There's this huge fallacy that the debate about gay rights is a debate between gay and lesbian people and secular people on the one side, and people of faith on the other," said Josh Friedes, spokesman for the coalition to approve R-71. "The truth is very, very different."
Indeed it is.
Cross-posted at Washblog.