Equal Right Washington Education Fund has launched the new community education ad "Am I Protected?".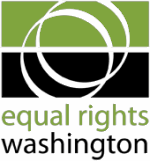 Every day, LGBT people face inequalities that just don't make sense, from small acts of discrimination to ones with tragic consequences. The hard reality is that we find out what rights we don't have when we need them the most. For many of us, that means that we have to ask ourselves, am I protected?
Unfortunately too many of us avoid that question and lapse into inaction, maybe hoping someone will act for us. And we're all well aware that too many of our straight friends and neighbors don't even know the question exists. These two groups, I presume, are the audience for this ad.
The answer to the question is "no", and the solution to the problem is taking personal action in making change for ourselves. Sometimes all it takes is having an informative chat with a friend to bring them up to speed. Believe it or not, a friend of mine just found that his hair stylist in Seattle did not know about Referendum 71. If this is not proof that we need to take every opportunity we have between now and Nov. 3rd to talk to everyone we know until they mark "approved" on R-71 and mail in that ballot, I don't know what is.
Many Washingtonians will know Charlene Stong's story, but here's it is in a nutshell:

Charlene Strong lost her partner Kate Fleming after a tragic flooding incident in Seattle in late 2006, and was nearly barred from seeing Fleming in her last moments of life. Strong's heart-wrenching testimony about the hospital ordeal helped prompt Washington State to pass domestic partnership protections for same-sex couples. The award-winning feature documentary for my wife chronicles Strong's journey through tragedy to activism.
According to ERWEF director Connie Watts via the SLOG, the ad is airing "though the end of the week in Seattle, Walla Walla, Yakima, Tri Cities, Vancouver, and Bellingham." After that, "we are giving opportunities on our website for people to buy more airtime anywhere they would like to." Looks like you can buy a spot in Yakima for only $17!Note that this community service announcement is not a campaign commercial and therefore doesn't mention Referendum 71. This would be in-line with the mission of the ERWEF:

About the ERW Education Fund

The Equal Rights Washington Education Fund is a 501(c)(3) organization, and is the public education arm of the ERW family of organizations. Through the Education Fund, ERW can organize, educate, communicate, and recruit supporters to our ranks through broad-based issue education unrelated to current legislation. A significant portion of the work conducted through ERW is done through the Education Fund. In many ways, the Education Fund is the organization that allows us to work on "changing hearts and minds" throughout the state on a myriad of LGBT issues. The Education Fund has a separate board from the other organizations. All contributions to the Equal Rights Education Fund are tax deductible.