UPDATE: A transcript of the debate portion of the video is below the fold. The debate starts about 5:43 minutes into the video.

---
King 5 News is running
this
19 minute Up Front Video about
Referendum 71
over the weekend. The video isn't embedable, but you can watch it on the
King 5 website
. The second half of the video features Anne Levinson opposite Josheph Backholm in a point-counterpoint Q & A. Levinson (right) is Chair of
Washington Families Standing Together
, the organization running the
Approve 71
campaign. Backholm is the Director of Family Policy Institute of Washington, a Focus on the Family Affiliate.
You might say I'm a slightly biased observer, but I think Levinson's calm ability to stay on-message left Backholm looking like someone always grasping for the next straw. She made a solid case for voters choosing to protect all Washington families equally. Backholm was clear on one point: he hates gays and will toss any red herring available to recruit others to that animus.
Btw, Backholme is the guy who advocates kicking the walker out from under from grandpa.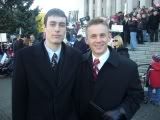 In the course of this debate, we are also going to learn something about Washington's senior citizens. Specifically, we will learn whether or not they can be bought….

[O]nly 500 heterosexual senior couples have registered since the opportunity was created in 2006. However, it does allow same-sex marriage advocates to claim that those who vote against the redefinition of marriage are also voting against grandma. Who in good conscience can do that? Hopefully, lots of people can. In fact, seniors should be leading the charge…

[F]or those [seniors] who have not been swept away by the tyranny of tolerance, I trust they will recognize this effort to buy them.

While voting to give yourself more of other people's money is always tempting, it is my hope that this attempt will be more insulting than effective.
This rightfully won him the jeers of the Federal Way Mirror's editorial board, which said:

"Jeers to the Family Policy Institute of Washington for inflicting its dogma of intolerance upon this state. …
The Family Policy Institute has called this legislation a "threat to religious liberty" as well as a "bribe" for seniors. In reality, this legislation is a threat to deeply-ingrained prejudices and a fear of change. Throughout history, any attempts to expand the rights of marginalized people have been met with resistance. Examples include women's suffrage and the desegregation of schools. Americans treasure their right to maximum personal freedom and independence. In this case, the institute asks voters to reject the legislation – and limit personal freedom and independence for a small slice of the population. That way of thinking is counterproductive to American values."Here is a transcript of the debate portion of the video. The debate starts about 5:43 minutes in.


Allen Schauffler

: Welcome back, we're talking about Referendum 71. It would expans domestic partnerships in Washington state. And we're joined by Joseph Backholm. He is with the Family Policy Institute of Washington, he opposes referendum 71. And Anne Levinson with Washington Families Standing Together. She supports Referendum 71.

Let's start with the simple, the easy questions. Ms. Levinson, why should voters mark their ballot "approved"?

Anne Levinson: Well, by voting "approved" voters are showing their support for our state's domestic partnership law. The domestic partnership law is a law that provides protections for families – important protections, particularly in times of crisis. In our state there are 12,000 domestic partners in all counties in all parts of the state. And without these important protections, particularly in times of crisis, irreparable harm will be done to parents and children both.

Schauffler: Alright, Mr. Backholm, why should people check "reject"?

Joseph Backholm: Well I think that the benefits of this, as Anne has stated, are known. But what we've seen around the country as domestic partnerships basically are, uh receive marriage benefits, and when the law says that there's no difference between domestic partnerships and marriages, is that this has a strong implication for what is taught in public schools, and a lot of parents have a problem with that. We've seen a lot of implications for religious liberty, and people able to run their businesses and operations as they see fit according to their consciences without the state's intrusion.

Schauffler: Don't we alraedy have legalized domestic partnerships in this state, many of the key rights protected? Isn't that in place right now? Why go this further step?

Backholm: Well I think you shouldn't, and I think that's actually one of the arguments for, because in this state same-sex couples can adopt, own property together. They can visit each other in the hospital currently. The can inherit without a will. There's a long list of current benefits that already exist under the domestic partnership law. What this bill says over 180 times is that for all intents and purposes, same-sex domestic partners shall be treated the same as married couples. And the implications for that are far beyond specific benefits.

Schauffler: Ms. Levinson, don't we have a lot of these protections already built into the Washington law?

Levinson: Well if I might, the purpose of domestic partnership laws is to insure that all families are threated equally. They have the same rights, same responsibilities, same obligations as their neighbors. And in our state right now only some of those rights and responsibilities are covered. It's this law that adds the remainder of those very very basic things.

In our state right now, if you have a partner who's gravely ill, and you take time off to care for her, you can be fired from your job. Without

this law, that's the risk that you run. In our state right now, if we did not have this law in place, if you're a firefighter or police officer and you're hurt or injured on the job, God forbid, if you're killed on the job, your partner is left without your worker's comp, or your pension benefits or other protections, so you're family is left in a financially precarious position just at the time you most need that support. If you're a teacher or a librarian, you've been working 20, 25 years, you've earned your pension. If something were to happen to you, without this law, your partner is left without that pension.

If you're a senior citizen in our state, if you're age 62 – if one partner in the partnership is age 62 or older, you can be in a domestic partnership. The reason that matters is there's something called a marriage penalty in the laws of Social Security. If you remarry, if you're a widow, or you're divorced and you remarry you often put at risk your hard-earned Social Security, your military pension, your other health benefits.

Schauffler: Why doesn't that apply to younger people in the state of Washington? Doesn't it discriminate agaisnt people who might be are younger and want to enter into a domestic partnership but not marriage? They wouldn't have the opportunity, right?

Levinson: I can't speak to others that are not protected by the law. All I can tell you is that what the opponents of the law are trying to do is ask voters to reject the law, and families would be left without these protections.

Schauffler: Mr. Backholm, your religious beliefs tell you that gay marriage is wrong. But doesn't the Constitution also guarantee that people would be protected, in essence, from your beliefs?

Backholm: That they would be protected from my beliefs?

Schauffler: Yes.

Backholm: No, it doesn't. The Constitution, the separation of church and state, and I'm going to get back to one of her points earlier, but the 1st Amendment states that the church shall not make laws on behalf of the state. I think that's totally appropriate and I wouldn't want it any other way. It does not mean that people who happen to have theological beliefs are not allowed to engage in public policy and in the political process. Everyone has moral, ethical beliefs, they are informed by a variety of things, religious teachings is one of those things, and because of that they're not disqualified from participating in the public process.

What I would say to the benefits is everything she says about those benefits are true. But that bill, that just provides these benefits, is probably a dozen pages or so. The bill, and everyone will see this when they get it in the mail, that was in the legislature was 130 pages long. And it says over 180 times that for all intents and purposes, same-sex domestic partners shall be treated the same as married couples. The implications of that are broad and have nothing to do with benefits. And to prove that point, we, during the legislative session, offered an amendment to this bill that would not have touched a single benefit that she refers to, but would have provided language in there that would have protected religious freedom and the rights of conscience for those who might not want to have to act in accordance with the state's belief that there's no difference between these two. And that amendment failed, and the legislation, and that was not accepted, because the purpose of this is not simply to extend benefits, it is to take, on behalf of the state, a moral position that there is no difference between these two, and anyone who disagrees with that will face consequences.

Schauffler: Ms. Levinson, is that the underpinning for this?

Levinson: No, in fact this law is very basic. What is does is say that all families in our state should be protected equally under the law. It's as simple as that. Now, the opponents can try to make it something it isn't, but what it is about are, should each of us and our families have the right, responsibility, the opportunity to protect our loved ones, particularly in times of crisis.

Schauffler: If this is rejected by voters in November, is that it for you? Will you accept that and simply move ahead with the protections that are in law right now? Or is there a next step?

Levinson: No. No, absolutely not. There are families all across this state who day in and day out rely on these protections. Let me tell you, there's a woman named Janice Langbehn who lives in Lacey, Washington. She's a social worker in a hospital emergency room. She met the love of her life 20 years ago. They've been living together, raising foster kids, kids with HIV, kids with fetal alcohol syndrome, kids that others would not take in. They eventually adopted four of those children, gave them a home. They went on a trip, it was to be a special anniversary trip, the first major trip in 20 years, to go on a cruise. When they arrived at the cruise ship, her partner, Lisa, had an aneurysm , all of a sudden had to be taken to the emergency room. The whole family went to the emergency room. Janice was not allowed to see her partner. Not just for 1 hour, not for 2 hours, for 8 hours she was kept while her partner lay dying…

Schauffler: We could go back and forth with anecdotes like this, with stories like this on both sides of this law I think, but what I'm, what I asked was if the voters reject this, are you prepared to accept what they say, or is there more?

Levinson: No, that's why I'm telling you that this, these are real people and real families, and these are families whose lives are impacted. This is not a theoretical debate. These are people that for whom tragedy strikes, their families are devastated without protections in the law. So no this isn't a political debate, this isn't a theoretical debate.

Schauffler: And it doesn't end here if it's rejected. Same question to you Mr. Backholm. If the voters of Washington say 'we approve Referendum 71, we need to move ahead with this move on other issues and move on with life', is that it for your organization?

Backholm: There are other issues in the world that affect families.

Schauffler: Well we're talking about this issue. We're talking about this issue here today.

Backholm: I have no idea. And again, we, what we are defending is basically what has existed since the beginning of our country and most of civilization is that we recognize the institution of marriage between a man and a woman is special and unique and providing special benefits. So we will continue to represent that position, and how we do that I don't know exactly.

But I would like to address one of Anne's points. It had to do with this is providing protections to all families in Washington state, and that simply isn't true. Because there are many families that are neither the traditional one man one woman relationship, and are also not, you know, same-sex relationships. And there are polygamous relationships, there are relationships in which friends live together for decades at a time, where family members live together for decades at a time, and they also do not receive protections because they haven't shared their lives together in the way that the state does. And what I'd like Anne to tells us, and I've asked legislators across the state this for the last 8 months, is when the polygamous community comes to us and says we also are loving, consenting adults and we would like our relationships recognized by the state of Washington…

Schauffler: Isn't that a bit of a red herring? I mean that hasn't happened yet.

Backholm: It's going to happen. And in fact it has happened. It is a growing movement. And regardless of whether or not is has happened, we are establishing real precedent with this law, and in order for our law to be predictable and not arbitrary, we have to be able to make rational distinctions between things.

Schauffler: Anne, a response to that?

Levinson: Well, this measure was certified for the ballot on September 2nd. In that short period of time there are 200 organizations across the state of Washington that are urging voters to vote 'approve' to retain the domestic partnership law. They range from The Boeing Company and Microsoft, to the Washington State Nurses Association, to the Washington State Psychological Association, to the League of Women Voters, to mainstream republicans to the Democratic party…

Schauffler: Does it set a precedent for state sanctification for other types of relationships?

Levinson: It has nothing to do with state sanctification of other types of relationships.

Schauffler: Ok Mr. Backholm, polls show that the younger Americans are much more accepting of homosexuality, much more accepting of the unions men to men, women to women than older Americans. Are you fighting a losing battle in this?

Backholm: I don't know.

Schauffler: In the long term, is this vote in November aside, but in the log term?

Backholm: What you say is true. What we also know is as people age, as they get older, they tend to become more conservative in a variety of different ways. And I think that I don't know what the future's going to hold. What I do believe is that our society stands to benefit very strongly from sending the clear message that kids deserve both a mother and a father, and that we are entitled to be different, and that we are entitled to have different opinions, and that we can respect each others differences. But it would be inappropriate for the state of Washington to come down and say for the end of time, there are no differences between relationships, and anyone who thinks so will have a harder time contracting with the state of Washington, anyone they are going to have, they are going to have to pull their children out of public schools because…

Schauffler: Anne Levinson you have 20 seconds. Do you have a response to that final statement?

Levinson: Well, what this law is about is simply protecting families. It's about equality under the law. It's about respect, responsibility, it's about families willing to step up and take care of their loved ones in committed, loving relationships. regardless of your religions and regardless of your political affiliation I think we all agree those are the kind of families we want in our state, and these are the kind of laws that speak to fairness, equality, non-discrimination that voters in our state have supported time in and time out.

Schauffler: Alright, Anne Levinson, Joseph Backholm, appreciate your time today. Obviously a debate and a battle that is not going to end here with Referendum 71. Thanks for being on Up Front today. We do appreciate it, and we're going to continue this debate online.

What do you think of Referendum 71? Is it a good idea, or a bad one? Weight in. Type in King5.com/upfront.