Your correspondent hit the Approve Referendum 71 campaign trail Saturday. Here is her account of that epic day. And these were just the events she was aware of…
8:15 a.m. – The day began bright and early at the annual fall book sale hosted by the Friends of the Seattle Public Library. Doors wouldn't open until 9 a.m., but by the time of my arrival the line of eager buyers had already wrapped clear 'round to the back of the giant former airplane hangar.

Two straight senior allies and their lesbian neighbor made up the Approve 71 volunteer crew. This was their 2nd day of action. By the time they wrapped up their effort at noon on Sunday, they had handed out 2,000 palm cards to interested voters and gave the Approve 71 campaign visibility during the highest trafficked hours of the book sale. They were well received by folks in line who often took the opportunity to ask clarifying questions.
This was a volunteer-initiated event. As I would observe throughout the day, the campaign encourages volunteers to create opportunities for visibility and fundraising all over the state. This makes the campaign a great mix of some paid staff and thousands of volunteers who help expand the reach in all sorts of cool ways while keeping staff overhead modest.
11:30 a.m. – Off to the UFCW Local 21 phone bank.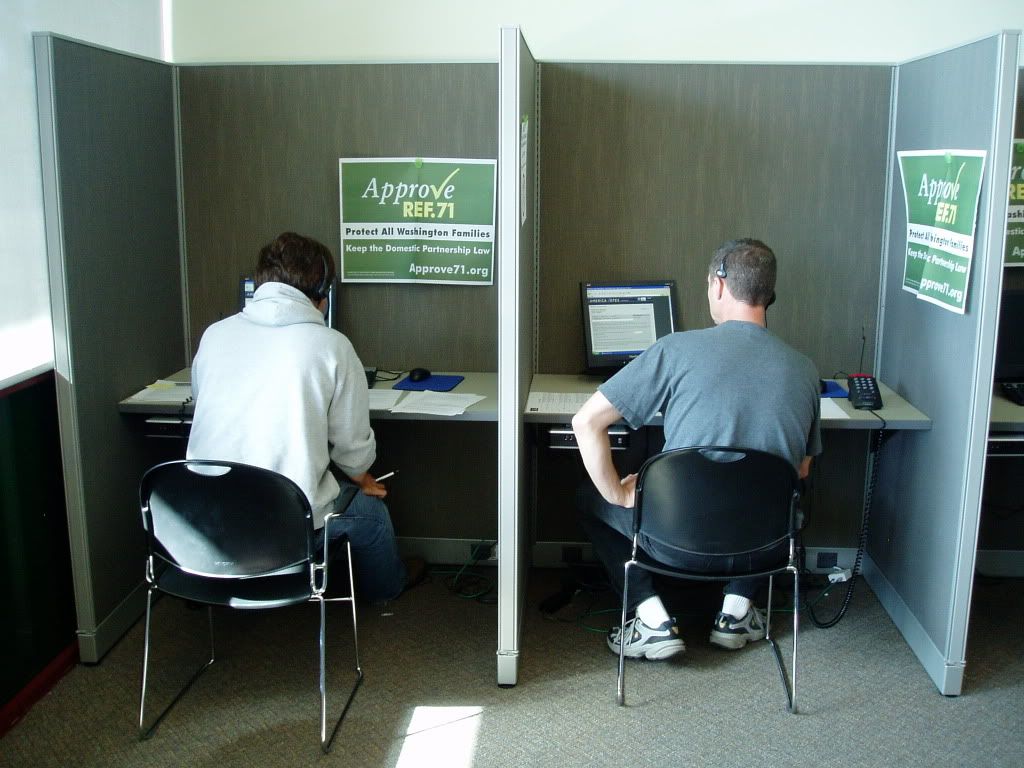 United Food and Commercial Workers Local 21 are generously lending the Approve 71 campaign their phone banking facilities every Saturday afternoon. If you've ever phone banked using the makeshift set-ups common in campaign offices, you would have swooned along with me at the sight of this well-appointed facility.
Most volunteers were being trained when I arrived. The old pros had already jumped right to the phones. To my eye there were enough volunteers present to fill the 40 or so calling stations. Coordinating events were several local volunteers and the amazing Adrian Matanza, loaned to the Approve 71 campaign from HRC.
12:15 p.m. – An invite to a far-flung fundraiser.
Just as I was thinking lunch might be a good idea, I got a call inviting me to join a fundraiser in Tacoma. This required a mad dash home to change costume, wolf down some lunch and meet my ride back at the campaign office at 2:15. Arriving there at the same time was Josh Castle to pick up materials for his voter registration and visibility event planned for the next day. After loading Josh up with supplies, we hit the road.
Oh but first, a look ahead at Josh Castle's Sunday event, which was another volunteer-initiated event. Another example of the Approve 71 campaign providing resources for grassroots activists who take personal responsibility and lift the campaign onto their own shoulders.
Look at this great visibility on a busy core-city intersection. And great interaction with passers-by who were honking their horns and stopping to ask for signs and information.
Love this t-shirt! Pictured center waving the Approve Ref. 71 sign is candidate for Seattle City Council, David Bloom.
3:30 p.m. – Tacoma fundraiser house party.
I don't get out of Seattle enough. I know this now because in Tacoma I met a house full of the most amazing straight allies. The event was organized by campaign volunteers and local LGBT activists Benjii Bittle, Kim Burke, Laurie Jinkins and Ryan Mello. Among those present were a retired editor from The News Tribune, the executive director of the local housing coalition, the v.p. of the health department, former chief of staff for the county executive, the retired city manager for the City of Tacoma, Tacoma mayoral candidates Marilyn Strickland (right, with Approve 71 campaign manager Josh Friedes) and Jim Merritt (left), long-time legislative leader on LGBT rights Rep. Jeannie Darneille and the executive director of Associated Ministries of Pierce County.
The group had a simple message to send:

"Pierce County says Approve Referendum 71!"
This being a fundraiser, this bunch didn't just make a fun video. They contributed over $18,000 to help broadcast the message to t.v. audiences that ALL Washington families deserve equal protection. Now is the time to be making media buys, and you can't make media buys on credit. It takes hard cash. Tacoma is literally putting its money where its mouth is.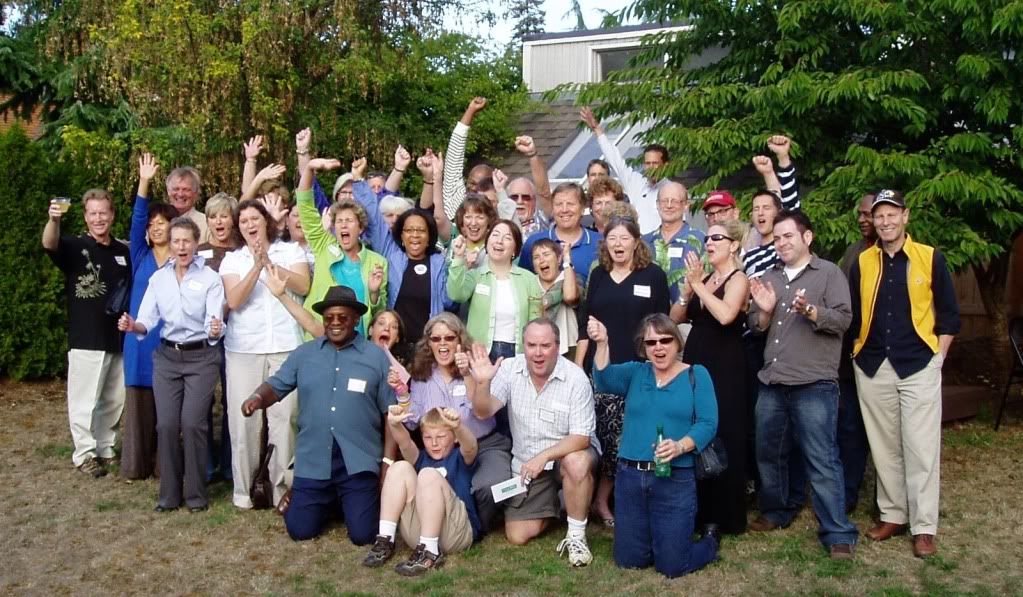 Meanwhile, back in Seattle…a little thing called the 23rd Annual Seattle AIDS Walk was underway. An estimated 2,500 people participated, including Approve 71 volunteers and allies, and others who should be. 😉
6:30 p.m. – Back in Seattle for HRC's Annual Pacific Northwest 10th Anniversary Dinner.


To say the evening exceeded expectations would be an understatement. The local HRC steering committee put their heart and soul into making this dinner a success not just for HRC, but for the Approve 71 campaign as well. Speaker after speaker talked about how important it is to approve Referendum 71. Included among them was Arlington, WA native and Congressperson Rick Larsen (D-WA 2nd), who spoke passionately for approval. Then, right before the "raise the paddle" auction began, Approve 71 Chair Anne Levinson spoke.
I guess she knows how to bring it home, because the raise the paddle ask raised $71,000, and every penny goes to the Approve 71 campaign. Donations ranged from $50 to $5,000, with an incredible number of individuals donating $1,000. Not only has HRC lent their staff person Adrian Matanza to the Approve 71 campaign, they just gave the campaign a timely infusion of cash. With people coming together like this, perhaps we can raise the remaining necessary one million dollars after all.



Meanwhile, east of the Cascades…

…the Washington State Democratic Central Committee was having their quarterly meeting in Walla Walla. They passed a formal resolution calling for the Approval of Referendum 71. Numerous democratic legislators and county committees had already endorsed the campaign or passed similar resolutions. Washington State Stonewall Democrats, one of the over 200 organizations and congregations who make up the Approve 71 coalition have taken the lead with organizing Democrats. They even had a hospitality suite at the Walla Walla meeting.
And these were just the events your correspondent was aware of on Saturday. Can you imagine what else was happening across the state? What an inspiring (and exhausting) day. People are coming together. We can do this!
Cross-posted at Washblog.