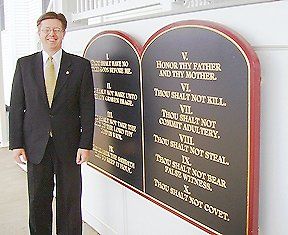 At least the guy admits he's having a mid-life crisis. Guess that ostracism from the heated battle over marriage in his state by the big-name fundies ushered him out the door pronto.

The head of the state's conservative Christian lobbying group has stepped down after nearly 20 years with the Maine Family Policy Council, formerly the Christian Civic League of Maine.

Michael Heath, 48, of China resigned Monday to do consulting work. He said Tuesday that his first project would manufacture and distribute solar cookers in Africa.

Heath said he decided to quit after returning from a two-week trip earlier this month to the United Republic of Tanzania in central East Africa on the Indian Ocean. He accompanied his wife, Polly Heath. A Christian singer, she was invited to perform there two years ago when the couple visited neighboring Kenya.

"I'm 48 and approaching my midlife crisis," he said in phone interview Tuesday. "I feel it's time to do something else. I'm excited about the opportunities that are presenting themselves for consulting in board development, fundraising and other aspects of networking. People in Africa are facing a whole different set of things unrelated to the very important and critical issues I've worked on here."
The Bangor Daily News article reports that Heath's desire to work on poverty issues is just part of a new trend with evangelicals. Well I say good for him; he's probably one of the only professional anti-gays who has seen the writing on the wall. It's time for a new line of work.
Other classics from Heath:

* Maine's Mike Heath Blames Potato Blight and Bad Weather On Gay Marriage

* Christian Civic League of Maine's Heath blames same-sex marriage for Wall Street meltdown

* Mike Heath's Meteorological Missteps- A Review

* Christian Civic League of Maine's Heath on the 'insidious methods' of the Homo Agenda

* Maine anti-gay hack Mike Heath calls for 'Save Our State Act'

* Michael Heath Places A "HELP WANTED" Ad