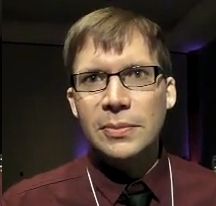 During the Equality Alabama Gala on Saturday, several awards were handed out, including a media award, given to WBHM for its radio series "Gay and Straight in Alabama". Accepting the award was producer and reporter Bradley George. On the series:
It's been a whirlwind spring for advocates of same sex marriage. Four states — Iowa, Vermont, Maine and New Hampshire — recognized such marriages. That flurry of activity is drawing attention to the concerns of gays and lesbians. But that conversation seems largely absent in Alabama.
And it's true — the lives LGBT people lead in deep Red and even Purple states are largely ignored by folks in large gay metro areas where rights are often expansive and taken for granted, including civil unions, DPs, etc. These are rights LGBTs in Alabama can only dream about at the present time. The five-part series of reports (with another segment that was a call-in program) touched on these aspects of LGBT life in Alabama.
At the links you can both listen to the pieces and read the transcripts.
Bradley George came up to me after the dinner to say that he reads PHB (and that he also lived in NC — btw, in the district of horrorshow Virginia Foxx). Part of his research landed him at the Blend on my post about journalist Bob Moser's excellent article for OUT Magazine in 2004, "Unsweet Homo Alabama," which asked the pertinent and timely question "Is Alabama really the worst place to be a gay person in Bush's America?" He wanted to find voices in the state to talk about life as it stands now. I did a short interview with Bradley about this:
Surf over to WBHM and listen/read about the series and discuss…
***
I gave two talks at the conference earlier in the day. Obviously I couldn't blog or Tweet it; Zach at Sweet Homo Alabama did during "Online Activism."