This has to be Oregon Gary's worst nightmare. The lawsuit to halt Referendum 71 that was filed Thursday by Washington Families Standing Together has been assigned to King County Superior Court Judge Julie Spector. According to Gary, Judge Specter is gay. (How did he know? She's not listed in the index in my copy of Teh Gay Agenda!)

A deep concern that we have is that Judge Julie Spector is openly homosexual and activist. She is found on a list of openly homosexual elected officials. In her campaign to be elected to her seat in 2000, she was quoted in the September 13, 2000, edition of the Seattle Weekly, calling herself a "dyke".

It is impossible to believe an openly homosexual activist judge could rule fairly in this case. We are considering our next step.
For Gary, Judge Spector's sexual orientation by definition tosses her into the "activist" category. Because, you know, only militant heterosexist theocrats can be considered impartial… This tells us something about Gary, and how sexuality apparently (over)rules his rational brain, and so he assumes it does the same for everyone else.
Sad that Gary won't even wait to hear the ruling and examine Judge Spector's legal reasoning before finding her guilty of ulterior motives. It tells me that he doesn't really care about justice, only about winning. And he'll smear anyone to win, apparently. Because you see for Gary, revealing that someone calls themselves a dyke is a smear. Personally, I find it rakishly charming.
Now might be a good time to review Oregon Gary's history of trying to manipulate the outcome of the 2008 Washington judicial primary elections. He wrote such learned evaluations about the candidates as this:

Holly Hill has the support of women, race and NARAL.

Les Ponomarchuk is the current court commissioner. We do not know a lot about him or his judicial philosophy but it appears he is taking a more conservative approach in seeking endorsements.

Rob Lawrence-Berry appears to be well qualified and has a mainstream church background. However, David Elofson appears to be a little more conservative.
One of Gary's picks, the heterosexually-married Michael Hecht, did actually win and is now a Pierce County Superior Court judge. Or was. He's on probation pending the outcome of his September trial. He's been accused of using racist slurs, stealing campaign signs of his opponents, hiring male prostitutes (paying in both cash and legal services) and threatening at least one of them with violence. Great pick, Gary, thanks! We should all trust Oregon Gary's wisdom about Washington judges.Gary must be sweating money-grubber bullets. He must know that this may be a now or never moment for fundraising, since R-71 may be in the shredder next week. This would explain the reek of desperation in his latest funding plea:

Your donation today is urgent. I cannot overstate the importance and urgency of your financial support. I know you understand that. Click here to make an online donation.
Yes, we understand perfectly, Gary. And as if he reads this blog and knew he needed to defend against his reputation as a shell-gamer, he follows on with this amusing reassurance:

All donations given to the Faith and Freedom PAC are used for direct expenses in advancing R-71. All income is spent directly on printing, mailing, internet promotion and going forward, media ads and expenses, rather than salaries or consulting fees.
Gary, didn't you know? Larry Stickney just admitted before the Public Disclosure Commission Thursday that he is ON THE PAYROLL of Protect Marriage Washington. You can see for yourself here that he's already raked in as salary 43% of all donations to PMW. Since Gary's Faith & Freedom PAC works in conjunction with PMW, and Larry Stickney is in fact on the F&F PAC board, there is nothing at all preventing the transfer of funds from F&F PAC to PMW to further line Larry's pockets.
I'm sure Gary is being truthful about one thing – he himself probably won't draw salary from F&F PAC. For months before the referendum was initiated he talked up the future referendum but had people donate to his Faith & Freedom Foundation or Faith & Freedom Network, not to the F&F PAC. So no, he need not draw salary from the PAC, because he'll undoubtedly be living off of PAC money he diverted to accounts beyond our view. He paid himself a very nice salary in 2006, the year he failed to get the anti-gay R-65 on the ballot.
And "internet promotion"? Don't get me started on the waste of funds on Gary's redundant vanity R-71 website. He's wasted 40% of PAC expenditures on it as of his last expense report to the Public Disclosure Commission.

---
DONATE TO WASHINGTON FAMILIES STANDING TOGETHER
PRINT AND DISTRIBUTE HANDOUTS AND PLACARDS
Referendum 71 voters will be asked to approve or reject the domestic partnership law.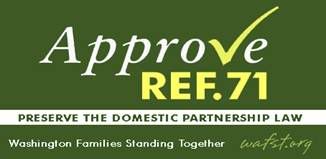 REFERENDUM 71

Ballot Title

Statement of Subject: The legislature passed Engrossed Second Substitute Senate Bill 5688 concerning rights and responsibilities of state-registered domestic partners [and voters have filed a sufficient referendum petition on this bill].

Concise Description: This bill would expand the rights, responsibilities, and obligations accorded state-registered same-sex and senior domestic partners to be equivalent to those of married spouses, except that a domestic partnership is not a marriage.

Should this bill be:

Approved ___

Rejected ___

Ballot Measure Summary

Same-sex couples, or any couple that includes one person age sixty-two or older, may register as a domestic partnership with the state. Registered domestic partnerships are not marriages, and marriage is prohibited except between one man and one woman. This bill would expand the rights, responsibilities, and obligations of registered domestic partners and their families to include all rights, responsibilities, and obligations granted by or imposed by state law on married couples and their families.