Gary Randall's blog posts are always a walk on the wild side, but today's is a particular hoot.

We are particularly concerned about the several thousand [petition signers] deemed "not registered" voters and the 501 signatures they say don't match the signature on file.
Yeah, I'd have expected much better quality from Gary's paid signature mercenaries. ->eye roll<- Have you forgotten your hired gun already, Gary, they guy who baldfaced lied to gullible voters? Just your style, wasn't he? I bet he did a bang-up job making sure that everyone who signed his sheet (a.k.a. signed his paycheck) was a registered Washington voter. By the way, neither your PAC nor Larry Stickney's has admitted paying for the mercenaries or receiving their services as in-kind assistance from another entity. Don't for a moment think that we haven't noticed.
Here's a video of Gary earnestly discussing the matter.
Gary also whines that he's being described as "anti-gay" in a press report. He says

I know there are those in the Seattle press who understand that at the heart of the matter, we are not "anti-gay rights," but are pro-traditional or natural marriage….I, nor most of the tens of thousands of people who are standing for and actively defending marriage, are "anti-gay rights." We are pro-marriage.
The PI got it right. When "pro-marriage" equals attacking the legal and financial stability of over 5,800 Washington families only because many of them are gay, then by your own definition you are anti-gay. Own it, Gary. But this is my favorite part because it is an outright lie that is debunked by Gary's own words and actions:

It was only when homosexual activists began to demand that marriage be deconstructed and family be redefined, that we became active.
ROTFL! Oregon Gary was instrumental in the effort to repeal the LGBT anti-discrimination law in 2006, a full year before the measly initial form of domestic partnerships was instituted in Washington. Remember R-65, Gary, and your ignominious three-way with Tim Eyman and Pastor Joe Fuiten? How conveniently soon you forget! Your current anti-family activism wasn't sparked by any particular domestic partnership law. The truth is that you hate it when gay people are treated fairly, and have dedicated your senescent years to persecuting them. Admit it Gary. Tell the truth for once in your life.
~~~~~~~~~~~~~~~~~

Related

* Oregonian Gary Randall's History of Manipulating Washington State Voters

* Paid Referendum 71 Signature Gatherer is Baldfaced Liar

* Protect Marriage Washington's Finance Report Looks SketchyReferendum 71 voters will be asked to approve or reject the domestic partnership law.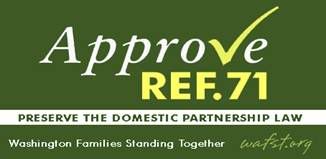 REFERENDUM 71

Ballot Title

Statement of Subject: The legislature passed Engrossed Second Substitute Senate Bill 5688 concerning rights and responsibilities of state-registered domestic partners [and voters have filed a sufficient referendum petition on this bill].

Concise Description: This bill would expand the rights, responsibilities, and obligations accorded state-registered same-sex and senior domestic partners to be equivalent to those of married spouses, except that a domestic partnership is not a marriage.

Should this bill be:

Approved ___

Rejected ___

Ballot Measure Summary

Same-sex couples, or any couple that includes one person age sixty-two or older, may register as a domestic partnership with the state. Registered domestic partnerships are not marriages, and marriage is prohibited except between one man and one woman. This bill would expand the rights, responsibilities, and obligations of registered domestic partners and their families to include all rights, responsibilities, and obligations granted by or imposed by state law on married couples and their families.
DONATE TO WASHINGTON FAMILIES STANDING TOGETHER !

PRINT AND DISTRIBUTE HANDOUTS AND PLACARDS !