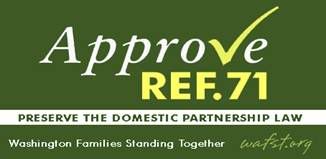 Washington state is now using a mandatory vote-by-mail system in every county except Pierce Co. Ballots for the November 3rd general election will be mailed out on October 14th. Voters may mail them back any day on or before election day.
What this means is that we can no longer rely on holding signs or passing out fliers at the polls to remind voters to vote APPROVED on Ref. 71 to preserve the domestic partnership law. Most of our work must be done well in advance of election day.
What this means is that we only have 60 guaranteed pre-vote days to get our message out to voters; November 3rd is no longer our target date, October 14th is.
Here are the cold hard probabilities of the referendum qualifying for the ballot, courtesy of Darryl at Horsesass.org.


A Monte Carlo analysis consisting of 10,000 simulated samples give a 95% confidence interval for valid signatures of from 121,175 to 122,415, well above the magic number. Here is the distribution of valid signatures:

There are a few "losses" in red on the left, but the overwhelming majority of outcomes in green have the referendum qualifying. In fact, the referendum failed to make the ballot in only 11 of the 10,000 simulations.

With the results to date, it is pretty clear that, come fall, we will be voting to accept or reject the "Everything but Marriage" law.
With almost 45% of the signatures already checked as of August 14th, there is little doubt that Darryl's conclusion is correct: Referendum 71 will qualify for the ballot.
With voters receiving their ballots in just over 60 days, we simply don't have the luxury of daydreaming about the ballot not qualifying.
The time is now. Take Action!

VOTE APPROVED on Ref. 71 to preserve our Domestic Partnership Law in Washington State.

VOLUNTEER on a phone bank or in the office.

Circulate PLEDGE FORMS at your church or synagogue social hour, farmers markets, and other events. Return forms to Washington Families Standing Together, PO Box 12216, Seattle, WA 98102.

PRINT A PLACARD for your window. B&W ink-saver version here.

PRINT FLIERS and hand them out wherever you go.

E-MAIL your friends and family telling why they should take the Pledge to Approve Ref 71. Forward form here.

JOIN the Faith Coalition.

WRITE a letter to the editor using this nifty letter-writing tool.

ADD A REMINDER to approve Referendum 71 in your email signature. Here is a sample message: Protect all Washington State Families – Approve Referendum 71! WAFST.org

ASK ORGANIZATIONS you belong to to endorse our campaign or become coalition partners.

FRIEND the Approve Ref. 17 Facebook group.

FOLLOW WAFST on Twitter.
The Domestic Partnership Law (SB 5688) was passed by the Legislature in 2009 to ensure that all Washington families are treated the same, with the same protections, the same rights and the same obligations as their neighbors. Under this law, registered domestic partners (same-sex couples and opposite-sex couples where at least one partner is over age 62), and married couples, are treated equally under state law throughout Washington.

Key rights and obligations in the law include:


Death benefits for the partners of police and firefighters killed in the line of duty.

Pension benefits for the partners of teachers and other public employees.

Victims' rights, including the right to receive notifications and benefits allowances.

The right to use sick leave to care for a seriously ill partner.

The right to workers' compensation benefits if a partner is killed in the course of employment.

The right to receive unemployment benefits if an employee must leave a job to care for a seriously ill partner.

The right to adopt a partner's child without paying for a home study.

The areas covered by the law include labor and employment law; pensions, survivor and other public employee benefits; family law; insurance rights; higher education; banks, financial institutions and loan agencies; creditors' rights and business licenses.

Opponents of the domestic partnership law are seeking to repeal it. Referendum 71 would ask voters whether the law should be approved or rejected. A vote to "APPROVE" keeps the law so that all families will have these protections in all parts of the state.
Go to Washington Families Standing Together to learn more about the referendum, and what you can do to preserve the domestic partnership law.
Washington Families Standing Together * 206-324-2570 * WAFST.org * PO Box 12216, Seattle, WA 98102Cross-posted at Washblog.