Gary Randall posted a fundraising plea August 5th on his redundant Referendum 71 vanity blog. In it he claims

I have included the latest communication from the Secretary [of State]'s office.
Except that wasn't the latest communication. It was the Sec'y of State's blog post from August 3rd, which is the last time that the Referendum 71 validation rate looked marginally decent. If Gary really had posted the latest communication from the Sec'y of State's office, he would have had to reprint this embarrassing comment from the Sec'y of State's August 4th blog post:

Election officials have processed another 5,815 Referendum 71 signatures, rejecting 14.4 percent…The error rate was the highest of any seen during the first three days of scrutiny.
Since 12.43% is the invalidation rate above which the referendum will fail to qualify, I guess he hoped to hoodwink a few donors into giving a few last dollars before word got out of the ever-increasing uncertainty over the referendum's fate.
Oh, and regarding that redundant vanity blog – Gary is continuing his habit of 'paying himself' with Faith & Freedom PAC money for running it. According to the Public Disclosure Commission, on July 29th he faithfully made the third payment of $1,179 from the PAC to the organization that he pays himself a salary from. So far he's transferred $3,477 this way, representing 40% of all PAC expenditures so far ($3,477/$8,648). As his would-be donors watch the signature invalidation rate increase towards possible referendum failure, I wonder if they'll think Gary utilized their donations wisely. $3,477 would have bought a lot of signatures from a petition mercenary.Referendum 71 voters will be asked to approve or reject the domestic partnership law.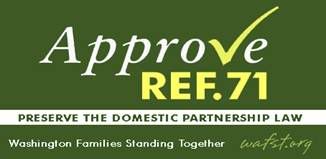 REFERENDUM 71

Ballot Title

Statement of Subject: The legislature passed Engrossed Second Substitute Senate Bill 5688 concerning rights and responsibilities of state-registered domestic partners [and voters have filed a sufficient referendum petition on this bill].

Concise Description: This bill would expand the rights, responsibilities, and obligations accorded state-registered same-sex and senior domestic partners to be equivalent to those of married spouses, except that a domestic partnership is not a marriage.

Should this bill be:

Approved ___

Rejected ___

Ballot Measure Summary

Same-sex couples, or any couple that includes one person age sixty-two or older, may register as a domestic partnership with the state. Registered domestic partnerships are not marriages, and marriage is prohibited except between one man and one woman. This bill would expand the rights, responsibilities, and obligations of registered domestic partners and their families to include all rights, responsibilities, and obligations granted by or imposed by state law on married couples and their families.
DONATE TO WASHINGTON FAMILIES STANDING TOGETHER !

PRINT AND DISTRIBUTE HANDOUTS AND PLACARDS !