Blogwhoring and link-sharing encouraged.

---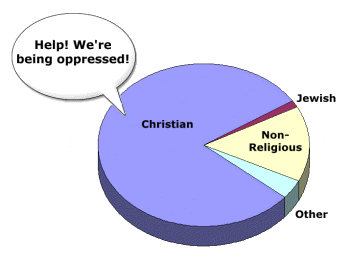 Have to lighten the mood around the coffeehouse after the serious Gates arrest post on class issues and news about E. Lynn Harris. From Daddy D's shop, a report on the understatement of the year:

'Christians Lack Understanding on Key Issues'

Christians don't have a thorough knowledge of the Fairness Doctrine, hate-crimes legislation or the Employment Non-Discrimination Act (ENDA), according to recent research by Wilson Research Strategies. CEO Chris Wilson said the data examined suggest that Christians don't fully understand the negative impact of these policy proposals on the ministries they support.

"The recent change in control of both the White House and Congress has reintroduced the possibility of the Fairness Doctrine being revived," he said. "Ministries would avoid any commentary that could be interpreted as relating to political or policy issues or risk action by the FEC. Stations would feel pressure to pro-actively drop some radio ministries in favor of music or left-leaning content.

Dr. Richard Land, president of the Southern Baptist Convention's Ethics and Religious Liberties Convention, finds it imperative for Christians to know the full impact of the current hate-crimes legislation, which can become law once both chambers reconcile differences between the two versions of the legislation they passed.

"It's going to have a very chilling effect on speech, religious speech," Land said. "There are people in other countries that have been arrested and sent to prison for explaining what Romans 1 says about homosexuality."
Of course they aren't talking about all Christians, mind you, but the people they consider "real" Christians, not you homo-loving fakers out there.