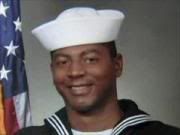 From the San Diego Union Tribune's Sailor charged in Camp Pendleton shooting death of seaman:
Navy officials said Thursday that they have charged a sailor with murder in the June 30 shooting death of Seaman August Provost at Camp Pendleton.

Provost, 29, was found dead of multiple gunshot wounds about 3:30 a.m.at his guard post on the North County base. Naval officials have previously said that someone tried to light a fire at the guard shack, but did not confirm whether Provost was burned.

Navy officials said more information will be released at a news conference at 4 p.m. Thursday.

…Relatives of Provost, who was gay, said he had told them he had been harassed. Naval officials have said that they have no evidence that the death was a hate crime…
We'll add more as more details become available.
Updates:
From the Los Angeles Times
…But the Navy said there is no indication that the murder was a hate crime based on the fact that the victim, Seaman August Provost of Houston, was gay.

Officials said Provost, 29, was standing guard when Petty Officer 2nd Class Jonathan Campos of Lancaster allegedly attempted to enter the base to commit violence. He was facing discipline for a drunk driving arrest in Imperial Beach.

Campos now faces charges including arson, burglary of a San Diego home, stealing military property, drug possession and attempting to hire a civilian to kill another sailor.

Navy officials said that although Provost and Campos were in the same command at Camp Pendleton, there is no indication that the two knew each other or that Campos targeted Provost for death…
From the Navy Compass:
…Charges preferred today include alleged violations of the Uniform Code of Military Justice, the military's governing law code, over a period from May 1 to July 1 including: murder of Boatswain's Mate Seaman August Provost III by shooting him with a pistol; use of illegal psilocybin mushrooms; breaking and entering into a private residence, and stealing electronic equipment, jewelry and a .45 caliber pistol; driving under the influence of alcohol; attempt to commit arson; wrongful possession of firearms; unlawful entry; unlawful carrying of a concealed weapon; stealing military property; arson; unlawful handling of a deceased individual; solicitation of a civilian to murder another Navy sailor, a Master at Arms assigned to ACU FIVE and to vandalize the sailor's house; and unauthorized absence.

"While the full extent of Campos' alleged behavior from early May through June 20 was not known to his superiors, the Commanding Officer had been notified of a June 20 DUI offense in Imperial Beach. This event was scheduled for a review by Campos' chain of command at ACU FIVE the week of June 29 and could have resulted in both administrative and punitive actions against Campos. Before the command took any action however, Campos allegedly set out to commit an act of material property damage against the command by setting fire to one of the Landing Craft Air Cushion, or LCAC's, the night of June 29," according to Brown.

"While allegedly attempting to gain access to the ACU FIVE compound Campos encountered Seaman Provost at the sentry station at which point Campos allegedly shot him multiple times. In an apparent effort to conceal evidence after Seaman Provost was shot, Campos allegedly took the sentry's firearm, and then set fire to the guard shack," continued Brown. He also noted that the physical evidence collected to date combined with witness statements support this sequent of events.

When asked about possible hate crime allegations or ties to gang activity in the area Brown noted that no information has been gathered to date to support allegations of a hate crime, nor have there been any ties to special circumstances for either gang or terrorist activity…
H/t: Law Dork