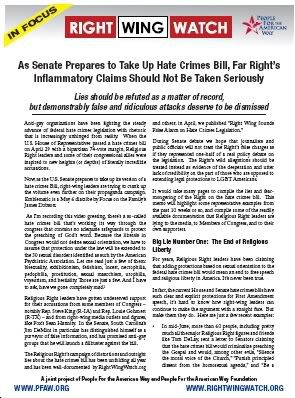 People for the American Way has released a document about the tired, hoary, untethered-from-reality pack of lies that the professional anti-gay set keeps spewing about hate crimes legislation, "As Senate Prepares to Take Up Hate Crimes Bill, Far Right's Inflammatory Claims Should Not Be Taken Seriously."
For instance, it's hard to believe that anyone would buy this flaming pile of crap from Daddy D:

As I'm recording this video greeting, there's a so-called hate crimes bill that's working its way through the congress that contains no adequate safeguards to protect the preaching of God's word. Because the liberals in Congress would not define sexual orientation, we have to assume that protection under the law will be extended to the 30 sexual disorders identified as such by the American Psychiatric Association.

Let me read just a few of them: bisexuality, exhibitionism, fetishism, incest, necrophilia, pedophilia, prostitution, sexual masochism, urophilia, voyeurism, and bestiality

. Those are just a few. And I have to ask, have we gone completely mad?
How many times have we heard hate crimes legislation labeled the 'Pedophile Protection Act'?

One appalling development has been the return to public discourse of public officials openly equating gay rights with support for pedophilia, a false and hugely inflammatory charge that seemed to have faded somewhat as equality for gay people gained support among the American public. But in their desperation to defeat hate crimes legislation, Members of Congress joined James Dobson and other Religious Right leaders insisting that Democrats were giving rights to pedophiles at the expense of Christians. One WorldNetDaily story used the phrase "Pedophile Protection Act" no fewer than four times in referring to federal hate crimes legislation under consideration, once quoting Rep. Louis Gohmert of Texas using the term.
Here's Lou Sheldon of the Traditional Values Coalition:

"Ensures that crimes against a transgender, drag queen or a gay man are treated more harshly than a sexual assault on a child. It will make pedophiles a protected class who can claim federal protection if they are injured by a parent as a result of molesting a child."
Pedophilia is not protected and it's certainly not a "sexual orientation." More below the fold.

The first falsehood is that because the bill does not include an explicit definition of "sexual orientation," the term would be used to cover, depending on which Religious Right figure is speaking at any moment, either a list of 30 "paraphilias" listed in the American Psychicatric Association's current Diagnostic and Statistical Manual of Mental Disorders, or a much larger list of "

547 sexual deviancies," as claimed by radio host Janet Porter and RightMarch.com PAC

. The ever-memorable Pat Robertson suggested that it might protect "

people who have sex with ducks

."

…Here's the simple fact regarding a definition of sexual orientation: Pedophilia is not a sexual orientation by anyone's definition – only in the imagination of Religious Right organizations and political figures trying to derail the legislation with the most inflammatory charge they can come up with. As Rep. Tammy Baldwin pointed out during debate, sexual orientation is explicitly defined in the federal hate crimes statistics act as "consensual heterosexuality and homosexuality. And in spite of the Right's claims about paraphilias, the American Psychiatric Association defines sexual orientation very clearly as homosexuality, heterosexuality, or bisexuality.
What is it with the right wing and bestiality, anyway? It makes you wonder…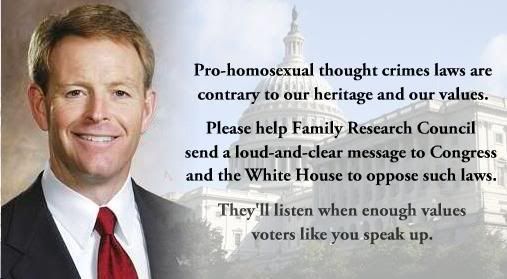 And, of course, the most infamous claim of the bible-beating set is that it will be the The End of Religious Liberty.

* In mid-June, more than 60 people, including pretty much all the major Religious Right figures and friends like Tom DeLay, sent a letter to Senators claiming that the hate crimes bill would criminalize preaching the Gospel and would, among other evils, "Silence the moral voice of the Church," "Punish principled dissent from the homosexual agenda," and "Be a savage and perhaps fatal blow to First Amendment freedom of expression."

* Janet Porter, a leading supporter of Mike Huckabee's presidential bid, helped boost a Flag Day (Sunday, June 14) effort involving pastors "standing for freedom by exposing this dangerous bill that could land them in jail for the 'crime' of reading from Romans." Porter, a WorldNetDaily columnist, was also behind a letter writing campaign to the Hill; its claims to have sent 700,000 letters sounds impressive until you read that people paid a lump sum to have 100 letters (one to each senator) generated over their name.

* The American Family Association's Donald Wildmon sent activists an alert in late June under a headline that screamed, "The 'Hate Crimes' bill will take away our religious freedoms."

* Pat Robertson recently told viewers of his 700 Club show that the bill would prevent pastors from preaching against homosexuality, claiming that "if anybody speaks out about homosexuality, says it's a sin, says its wrong, says it's against the Bible, that individual would be charged with a quote, hate crime."

* On the eve of the House bill's passage, GOP Representatives Louie Gohmert of Texas and Trent Franks of Arizona joined Bishop Harry Jackson and spokespeople from the Traditional Values Coalition and Concerned Women for America to claim that preaching against homosexuality would become a hate crime. Talking points handed out by Rep. Louie Gohmert's staff claimed that "The Hate Crimes bill creates a new Federal "Thought Crime."
But just to be clear, both House and Senate versions of the legislation include clear and explicit affirmations for speech and religious teaching. Here's language from the bill about to be taken up in the Senate:
Where do you see pastors in shackles in this language from the bill:

CONSTITUTIONAL PROTECTIONS- Nothing in this Act shall be construed to prohibit any constitutionally protected speech, expressive conduct or activities (regardless of whether compelled by, or central to, a system of religious belief), including the exercise of religion protected by the First Amendment and peaceful picketing or demonstration. The Constitution does not protect speech, conduct or activities consisting of planning for, conspiring to commit, or committing an act of violence.

FREE EXPRESSION- Nothing in this Act shall be construed to allow prosecution based solely upon an individual's expression of racial, religious, political, or other beliefs or solely upon an individual's membership in a group advocating or espousing such beliefs.

Please go read the full report. I'm sure we'll hear some of the same ridiculous sound bites come out of the mouths of homophobic senators on the floor.