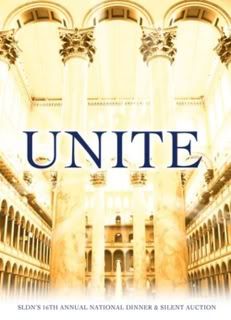 Blender Daimeon Pilcher and I are at the beautiful National Building Museum tonight to cover the events at the Servicemembers Legal Defense Network (SLDN) dinner, which includes a silent auction at 6:30.
SLDN's mission, as a national, non-profit legal services, watchdog and policy organization, is dedicated to ending discrimination against and harassment of military personnel affected by "Don't Ask, Don't Tell" and related forms of intolerance.
Tonight, the organization honors those who have made a significant impact over the last year in the fight to raise awareness of the contributions and importance of this country's gay and lesbian service members, and who have played a role in the mission to repeal DADT. SLDN recently made headlines when it was named as one of the 10 national LGBT and HIV/AIDS organizations to benefit from the generosity of the late Ric Weiland, one of the first five Microsoft employees. Mr. Weiland personally selected SLDN for its impact on the LGBT community.
We are liveblogging the entire event (see the past liveblogs), providing photos, audio and video along the way, so keep refreshing your browser. We will also have links to the remarks of the speakers, so you can get a sense of what it is like to be here.
This year, speakers include:
* Special Guest Tipper Gore, who has long been "out" as a strong ally of the community.
* Darren Manzella, the Army Sergeant who served a tour of duty in Iraq, came out of the closet to his colleagues and commanding officer and served openly in Kuwait — he wasn't discharged, even after being featured on 60 Minutes.
* Former U.S. Ambassador to Romania Michael Guest, the first openly gay U.S. Ambassador confirmed by the U.S. Senate. Secretary of State Condi Rice publicly acknowledged and recognized Guest's partner Alex at his 2001 swearing in ceremony. He retired in 2003, citing his reason as the department's failure to treat the partners of gay and lesbian foreign service officers the same as the spouses of heterosexual officers.
The liveblog begins after the jump. Feel free to chat while online waiting for updates.
***
I did get a chance to do a quick exclusive interview Barry Winchell Courage Award recipient Darren Manzella tonight:

***
11:00: Closing Remarks by SLDN Co-chairs, Zoe Dunning and Joe Tom Easley You can read their remarks here.
10:55: Ambassador Michael Guest:





Thank you for that welcome.

I'm thrilled to share this evening with the Servicemembers' Legal Defense Network and with you, its proud supporters.

And what a privilege it is to share the stage with someone who would have made a great first lady – Tipper Gore.

My partner Alex is also with us tonight. He doesn't relish attention, but I'd like to say a few words about him.

When I was asked to serve as ambassador to Romania, there clearly were more pluses for me than for Alex. But he readily put his career on hold to support me in service to the country we both love. He did so without fanfare, and of course with absolutely no support from the department of state.

During our three years in Romania, Alex was an incredibly caring and giving role model for our embassy community. And he did so much to show an entire country – one that had no other "out" political or social figures – that gay couples really are normal human beings.

When people comment on my decision to leave the State Department, I have a simple response. There are a lot of things that I can gladly do in life, but there's only one Alex.

This is my moment to thank him in public for his unheralded service — service that the State Department would not even acknowledge. Alex, you have my heart.

Tonight I stand not just before you, but also with you. We're here to honor not only those who wear our country's uniform, but those who aren't allowed to do so because they are inconveniently honest.



And we're here to demand that our government do the same. It's time to end "don't ask, don't tell."

Clearly there are differences in how the Pentagon and State Department treat gay and lesbian employees. But there's a common root to the discrimination that we've faced.

Some people just don't want to admit that we, too, are part of god's creation. They don't want us to serve as role models, whether as diplomats or as soldiers. That would be too much of a threat to their narrow-minded world.

And let's be clear. The legal discrimination we face remains in place because too many of our country's leaders will not take a clear stand for freedom and inclusion and equality. America proclaims these principles to the world. How can our leaders deny them to you and me?

The simple reality is that a country of America's stature can never stand on the shoulders of hypocrisy. We may be an inconvenient truth. But we will not allow that truth to be shoved into a dark closet.

SLDN is, of course, fighting the good fight to overturn "don't ask, don't tell." It's also doing valuable work in providing legal services to men and women around the world who are coping with this modern-day witch-hunt.

That mission dovetails with what some of us are doing on capitol hill to make federal benefit policies fair to gay and lesbian couples. And it also intersects with a new effort, known as the "lgbt foreign policy project," which asks that our government stand squarely against lgbt abuse and discrimination abroad.

That goal is, of course, in keeping with America's tradition of supporting freedom and human rights. You'll be hearing more from the project in the coming weeks. I hope you'll support it as well.

You know, when I ended my State Department career, I knew that path was the only right one for me to take.

The path that you and I and SLDN are on is also the only right one for a fair and just America. Together we will restore the coinage of our country. And when we do, my friends, the American flag will wave all the more proudly, here and abroad.

In that quest I offer you my solidarity and, again, my great, great respect. Thank you.
10:50: Former U.S. Ambassador to Romania Michael Guest, the first openly gay U.S. Ambassador confirmed by the U.S. Senate is introduced by Elizabeth Birch. She was born on an Air Force base in Dayton, Ohio, and grew up on a series of Canadian bases:

When our next speaker joined the foreign service in 1981, no one could have guessed that one day he would become the first openly gay U.S. Ambassador confirmed by the U.S. Senate. No one would have guessed that at his appointment ceremony as Ambassador, the Secretary of State would recognize his partner Alex, a historic first at the State Department. And no one could have guessed that after 26 years as a foreign service officer, he would take the opportunity of his retirement ceremony to remind Secretary of State Condoleezza Rice about the discrimination gay employees at the State Department and their partners continue to face each day.

Please welcome a tireless champion for the rights of lesbians, gays, bisexuals and transgender Americans — former U.S. Ambassador to Romania Michael Guest.
10:30: Elizabeth Birch, former director of the Human Rights Campaign (1995-2004) & Mati Weiderpass ask for support from the attendees for SLDN, and an impressive number of people commit to give generously.
SLDN's Aubrey Sarvis introduces Rep. Shelley Berkley (D-NV):

In the seventies I had the chance to meet a remarkable young woman. She was barely twenty, but already a star. She was president of the student body at the University of Nevada at Las Vegas, she was working her way through college and wearing designer outfits, she was determined to succeed, and she was full of good humor. She was an intern in the Senate office of Howard Cannon where I was legislative director, and she was managing me beautifully. I was lucky I kept my parking space, not to mention my desk outside the senator's office.

Succeed she has. Today she is in her fifth term as the Congresswoman representing the First Congressional District in Nevada, mostly Las Vegas. I am talking about Shelley Berkley.

When Shelley was offered a seat on the powerful Ways and Means Committee, the first question she asked the Speaker was, "Do I have to give up Veterans Affairs?" Shelley was not about to abandon the veterans she had fought for for over a decade. This lady fights for those who cannot always speak, for those who are often without political power or the wherewithal to get justice.

Shelley Berkley fought for equality at the University of Nevada as a student leader and later as a Regent, in the Nevada Legislature in Carson City, in corporate America, and in the United States House of Representatives where she was one of the early co-sponsors of H.R. 1246, the bill to repeal Don't Ask, Don't Tell.

Shelley is who you want around when you go into battle. I am so glad she is on our side. Please welcome our friend, a champion of our Armed Forces and our veterans, and a staunch champion for equality. Please welcome the very gentle lady from Las Vegas, Shelley Berkley.
***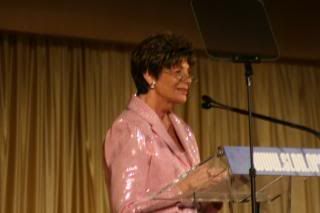 Rep. Berkley speaks about the work of SLDN.
10:08: Darren Manzella, the Army Sergeant who served a tour of duty in Iraq, came out of the closet to his colleagues and commanding officer and served openly in Kuwait — he wasn't discharged, even after being featured on 60 Minutes. He is the recipient of the Barry Winchell Courage Award, presented by Pat and Wally Kutteles, the parents of Winchell.

Thank you, Pat & Wally, for this extraordinary honor. I am so moved and inspired by your own courage in honoring your son's memory by doing such important work. You are heroes to the service members in our armed forces, and you are role models for parents, family members and friends everywhere. It is my privilege to join you this evening and to accept the Barry Winchell Courage Award.

I also want to share this award with the amazing staff at Servicemembers Legal Defense Network. Particularly Steve Ralls, who supported my Mom and me throughout this journey and without whom the 60 Minutes piece would never have happened. I also would like to thank my personal legal team of Kathi Westcott, Aaron Tax and Sharra Greer. SLDN is truly a lifeline for our troops, and I can't imagine not having them on the other end of the phone line to help me navigate this law and give me the best legal counsel imaginable.

When SLDN first approached me, more than six months ago, about speaking with Lesley Stahl and 60 Minutes, my first response was: What will it mean? What will happen? Will my speaking out help the brothers-in-arms that I have been so privileged to serve with?

And as I asked those questions, I soon realized that this was not just an opportunity to tell my story, but also to give voice to the countless thousands of LGBT Americans who are serving under "Don't Ask, Don't Tell." They have been silenced too long, forgotten too long and left out of the American dream for too, too long. And so I began to realize, that through the power of this story, my own voice could be magnified thousands of times over, and finally show the public that, yes, there are gay Americans fighting and dying for our country; and that, yes, those men and women deserve the same freedoms they are defending at home and abroad. We are Americans, too

So very early one morning in Kuwait City, I sat down with the crew from 60 Minutes and told my story and the story of everyone who is serving under "Don't Ask, Don't Tell." The response has been, quite honestly, a little overwhelming.

I have received emails from service members I have never met and messages from parents who are proud of their own lesbian or gay child serving in the military. I have heard from commanders who do not support this ban, and from veterans dismissed under it who are anxious for the day repeal will happen. Each of them, like Pat and Wally Kutteles, have been a source of irreplaceable motivation. And each of them, like all of you, are determined to see this law end.

It is their courage, and your courage that is making the real difference for our men and women in uniform. That courage is truly what deserves an award, because it is what keeps all of us in the military going each and every day knowing that someday soon we will serve under the same freedoms we seek for those we are fighting for.

I am reminded of Nelson Mandela's inspiring words:

"After climbing a great hill, one finds that there are many more hills to climb. I have taken a moment here to rest, to steal a view of the glorious vista that surrounds me, to look back on the distance I have come. But I can only rest for a moment, for with freedom come responsibilities, and I dare not linger, for my long walk has not yet ended."

Freedom to be ourselves, honor ourselves and love who we are is the only course to take to find freedom for us all.

Tonight, let there be no mistake that our message is this: If you are serving in silence somewhere, we give you our words, and our actions, to end your loneliness. If you have been in these shadows too long, know that we are here in our nation's capital to welcome you into the sunshine. And if you have been told that you are somehow 'less than,' know that you are not. America is beginning to clearly see that you are not.

Change is on the way, and it begins here, in this place. When I appeared on 60 Minutes, 15 million people heard my voice, speaking for the thousands who are forced to serve in silence. Together we are breaking the silence.

Thank you for this honor, and thank you for all you do every day.
A letter from Darren's mother, Nancy Manzella, is read, by Matthew Shepard's mother Judy:

Dear Darren,

Congratulations from the whole family for the high honor you are receiving tonight. Dad and I can't be with you in person but we are always with you in our hearts. We can't express how proud you have made us by finding the courage and strength within yourself to work publicly for repeal of the Don't Ask, Don't Tell law. We know that you had not only your own interest at heart but the welfare of all gay and lesbian service members. You made a difficult decision – we know it was the right decision – and we hope your actions will benefit all those affected by this antiquated law. We love you and thank you for all the love and joy you have brought to our family. We are so proud of the person you are and honored to call you our son.

Mom and Dad
9:58: Pat Kutteles:

Good evening. Wally & I are so proud to be here with all of you again this year, and to salute your work to repeal "Don't Ask, Don't Tell."

This year, we are particularly proud to present the Barry Winchell Courage Award to an outstanding soldier who has exhibited great dignity and honor in both his military career and personal crusade to speak out. It was easy to select Sergeant Darren Manzella as this year's award recipient.

In December of last year, Darren truly gave us 60 Minutes that changed the course of this debate in our country. Because of his willingness to share his story, and his determination to do the right thing, all of America saw, firsthand, the story of a proud gay American soldier serving inside a warzone. Never before had a service member taken such a bold stand, in such a compelling way, to debunk the myths behind "Don't Ask, Don't Tell." In an instant, more than 15 million homes learned how patriotic our gay troops are and how much they bring to our national security and military readiness.

Darren's appearance on 60 Minutes was so inspiring, and his courage was unmistakable.

As an Army medic Darren has completed two tours of duty in the Middle East. He has saved lives. He is, quite simply, the kind of soldier every American should want in our armed forces. And he is the kind of American hero we can all be proud of.

As Barry's mom, I learned how to recognize a good soldier – and a brave American – when I see one. Wally and I truly believe that we have seen one and are proud, this evening, to pause and honor him for his incredible gift to our community and our nation.

It is my honor to present this year's Barry Winchell Courage Award to a soldier who has shown courage in every aspect of his life, and passion in all that he does. Please join me in welcoming Sergeant Darren Manzella.
9:56: Q&A Café's Carol Joynt introduces SLDN Board Member and Gulf War Veteran Lieutenant Paula Neira (RN, CEN, Esq., LT, USNR (1985-1991)
Paula Neira introduces Patricia & Wally Kutteles:

Warriors – those of us in the profession of arms – remember our fallen brothers and sisters symbolically with empty chairs in the mess and in wardroom toasts to "Absent Friends." But it is in our actions, inspired by their example, that we truly honor their memory; and celebrate their love of Service and Country. Barry Winchell was a proud soldier – a paratrooper. He was a patriot, who believed that America was a nation worth defending. He was also a casualty of a war – a war fueled by fear, bigotry, and ignorance and fought, here at home, against the ideals that Barry swore to support and defend. His devotion to our country and his sacrifice strengthen and inspire those of us who must follow him. It is fitting that the award given by SLDN to that individual each year who has shown courage in speaking openly and honestly about the hardships endured in silence by patriotic lesbian, gay, bisexual and transgender service personnel is called the Barry Winchell Courage Award. I am honored, and humbled, to introduce Pat and Wally Kutteles, Barry Winchell's parents, who will present the award to this year's recipient.
9:52: N'Kenge performs again; "Everybody Say's Don't" and "Be a Lion."
9:50: Carol Joynt mentions that true bravery would be for Anderson Cooper to be here. :)


9:40: Former Second Lady (and almost First) Tipper Gore is speaking. (Daimeon) Here is the video of her complete remarks:
9:35: Introduction of Tipper Gore by former senior advisor to Vice President Al Gore, Jeff Trammell.

Good evening.

To anyone who knows Tipper Gore it is not a surprise that the qualities that make her an extraordinary parent, spouse, friend, public servant, campaigner, counselor, and just all around respected citizen -also make her one of the country's foremost advocates for lesbian, gay, bisexual and transgender rights.

I was privileged to help Tipper and Al gore in the 2000 campaign. You remember the 2000 campaign. That was when Al Gore won the popular vote but lost the election anyway. My first assignment was as liaison to the LGBT community.

As we crisscrossed the country meeting with thousands of lgbt Americans, we heard the stories time and time again: Normandy. The Pacific. Korea. Vietnam. The Persian Gulf. Stateside. At sea. Stories of extraordinary courage and commitment to a country that had not yet learned – and still has not fully learned – to afford these women and men all the rights to which they are due.

Today a clear majority of Americans support what Tipper and Al Gore have supported for many years: our right to participate fully in American life. That includes the right to be considered for military service. That right is still denied us. We are put in the same category as convicted felons, although now that the country is fighting two wars and the demand for troops is high, many convicted felons are given waivers to serve. But not lesbians, gays, bisexuals or transgenders.the recruiting office won't ask, but you'd better not tell.

Under the dynamic leadership of Aubrey Sarvis, this organization will change that. So tonight, as we enter this new phase of the battle, it is an honor to hear from a friend whose commitment to our community is unwavering and to someone who has always spoken the truth no matter the venue: until GLBT Americans participate fully in our society, including its defense, the American dream is unfulfilled.

Ladies and gentlemen, it is my pleasure to introduce Tipper Gore.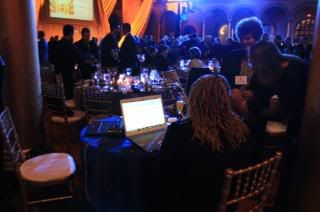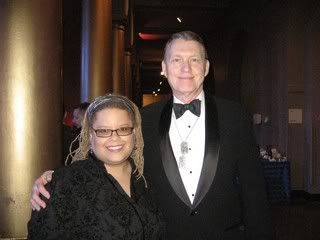 9:00: SLDN's Aubrey Sarvis stopped by our table.
8:40: Dinner is served, but we're still working…it looks like Kerry Eleveld has managed to snare some time with Darren Manzella for me to do a short interview. Look for that later.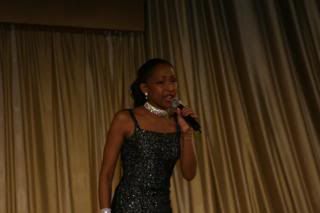 8:15: Q&A Café's Carol Joynt, the night's emcee, introduces N'Kenge for her 1st performance of the evening — "Defying Gravity" from Wicked. Fabulous. Daimeon will have photos up soon.
8:07: Aubrey Sarvis:

I came to work for the eleven SLDN plaintiffs challenging Don't Ask, Don't Tell in court:

Thomas, Megan, Laura, Jack, David, Monica, Jenny, Stacey, Jennifer, Justin, and Derek–our SLDN Eleven

. They seek justice and they want their honorable service recognized. They were discharged-that is, fired, kicked out-for one reason only: They are lesbian or gay. They deserve better from our government. They deserve an apology.

And I came for the rest of the 12,000 gay and lesbian service members who have been unfairly discharged in the fifteen years since this law went into effect. I came because we have unfinished business to take care of. A bad law must go, justice must be restored–but we must persuade.

This is a fight we must and will win. We have been too polite, too patient, and too silent for far too long. Let us seize the day. Let the campaign begin. But we cannot do it alone.
You can read the rest of his remarks here.
8:05: Bitsey Folger & Riley Temple; introduction of Aubrey Sarvis, executive director, SLDN. You can read her remarks here.
8:00: Brian Fricke performs the Table of Honor presentation.

Ladies and Gentlemen, please direct your attention to the small table next to the stage. Perhaps, as you looked around the hall tonight, you noticed this table, located in a place of honor and set for one. The military is rich in custom, courtesy and tradition. This table is our way of honoring the gay and lesbian service members that are not with us this evening.

We call them friends, brothers, and sisters – our fallen comrades. They are also known as Prisoners of War and those Missing-in-Action. We remember them for their bravery and for the sacrifices they have made.

The chair is empty because they are not here to share in this meal. The glass is inverted. They cannot toast with us this night. The white tablecloth is a symbol of the purity of their intentions to respond to our country's call to arms. A slice of lemon lies on the bread plate to remind us of their bitter fate. The salt is symbolic of the tears they shed as they wait. The single rose reminds us of the families and loved ones who keep vigil and faithfully await their return. The ribbon on the vase reminds us of the red ribbon worn upon the lapel and breast of thousands who bear witness to their devotion to duty and demand a proper accounting of our missing.

Remember, all of you who served with them and called them Soldier, Sailor, Airman, Marine and Coastguardsman. You relied upon them and depended upon their might and aid. They have not forgotten you.

…Please join me in a moment of silence as we remember those who have paid the ultimate price.
7:55 PM: Color Guard and National Anthem
Some other photos from the event…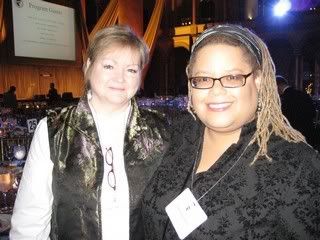 Matthew Shepard's mother Judy with yours truly, and Daimeon.


Bob Witeck of Witeck-Combs Communications and Kerry Eleveld of The Advocate; Bleu Copas with Daimeon.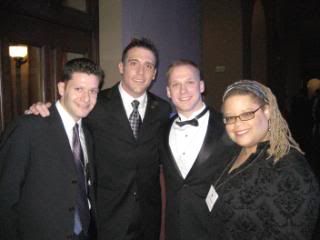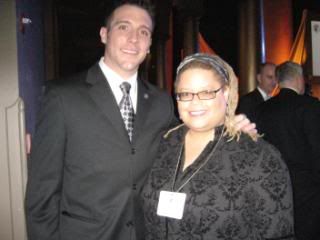 Left: Aaron Tax, one of the SLDN attorneys for Darren Manzella, Darren, Daimeon and your blogmistress; Right: With Darren Manzella.
Below, I'm feverishly trying to keep up with the action…
I had a lot of Blender lurkers come up to say hi this evening; it's great to meet and chat with readers offline! I do, however, feel like a meager player in terms of substance and effect on the movement compared to the many people doing great activism out there — but the praise is kindly and humbly appreciated.
Additional shots:
---
Other posts from the annual dinner are here
.